Alternatives to a Screened-in Porch
A screened-in porch allows you to enjoy the best of nature without exposure to bad weather and insects. Screened porches can be found anywhere on a house. A screened back porch offers privacy, while a screened-in front porch invites conversation with your neighbors. A screened balcony might also act as a sleeping porch, a place to catch the night breezes in a hot climate. But if you are not fortunate enough to have a screened-in porch, there are other options.
Sunroom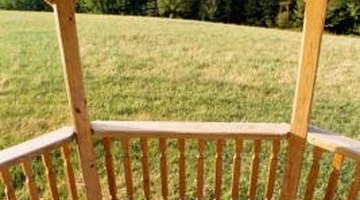 A sunroom is a space attached to your house with glass or window walls designed to bring the outside in. It can be an addition to your home or simply a porch that has been enclosed. Sunrooms are generally designed as four-season rooms with heating and cooling systems, but this is not always the case. Sunrooms are also known as Florida rooms, patio rooms and four-season rooms. They run the gamut from simple, porch-like spaces to full-fledged room additions.
Gazebo
A gazebo is a generally a stand-alone roofed structure -- it's traditionally octagonal, embellished with gingerbread trim and sometimes featuring a small cupola. Gazebos sit on a platform and are generally found in yards, gardens and parks, although some are built into a porch, deck, house or outdoor room. Gazebos are designed to be areas where you can sit to commune with nature, read, chat and enjoy a picnic. Aside from the protection of the roof, most gazebos are open like a traditional porch, although some may be screened, offering the same advantages as a screened-in porch.
Garage
A garage can be more than just a place to store cars, sporting equipment and tools. When the weather is mild, pull out the vehicles and organize the space. Screen in the openings usually covered by the garage doors to create an enclosed space where you can enjoy nature without going to the expense of adding a sunroom or building or purchasing a gazebo. Throw down an area rug and arrange furniture to form a conversation area. Include a table and chairs for dining and you have an inexpensive outdoor room that can be converted back to its original purpose whenever you choose.
Screen Room
A screen room is free-standing and resembles a tent large enough to stand up straight and walk around in. To enter, you unzip an opening on one side. Screen rooms generally are made from fabrics like nylon and polyester. They are screened on all four sides and have a solid top. Screen rooms often include blinds that can be rolled down over the screening in inclement weather. Screen rooms are portable, often coming in their own carrying bag, and can be set up in your yard wherever you choose. Furnish your screen room casually with a few bag chairs, folding chairs that come in their own bag, or go all out with a rug, lamp, and more substantial outdoor furniture.
References
Writer Bio
Jan Czech has been writing professionally since 1993. Czech has published seven children's books, including "The Coffee Can Kid," which received a starred review from School Library Journal. She is a certified English/language arts teacher and holds a Bachelor of Arts in education from Niagara University.
Photo Credits
Jupiterimages/Photos.com/Getty Images
More Articles