How to Transform a Ranch-Style House Into a Craftsman's Bungalow
The ranch house and craftsman's bungalow have some similarities, including easy access to the yard.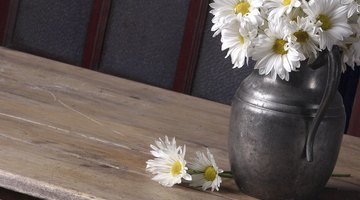 Depending on the designer and the decade in which your ranch-style home was built, its simple architecture might consist of a low roofline, multiple small windows, an open floor plan and centered entranceway, making it a basic, blank canvas ready for change. With the exception of altering the roof's pitch, the transformation into a craftsman's bungalow requires adding a few 19th-century English, Arts and Crafts movement features, such as a covered porch, hand-crafted details, interior walls and rustic attributes.
Incorporate a covered porch. If your ranch-style house has the common side-facing gable roof (the vertical triangles on the ends or front created by a sloping roofline), add a front-facing gable extending out from the roof as a covered porch over the entrance. Because you likely exit your ranch house at ground level, a basic concrete slab or inset flat rock patio will suffice as a "porch." This alteration provides two craftsman-style features in one.

Add columns. For a hand-crafted effect, wrap your covered porch's plain support beams to either create the look of a tapered or pedestal column.

Apply wood siding to the exterior. Trim the windows with rich wood planks. Layer the gables with cedar shakes and top them with decorative brackets, knee braces or corbels. Use river rock to fill the lower level and flank the doorway to create a nature-inspired bungalow effect.

Separate large, open spaces with interior walls. Although this might seem extreme and may not appeal to everyone, smaller rooms give you cozy, craftsman ambiance. To make this transformation less drastic, use simple, folding room dividers to break up a space. Simply fold up and remove these temporary walls whenever you like.

Change a small window into a stained glass window. If your ranch home has a lot of windows, choose one you rarely open in the entranceway or hall to make an Arts and Crafts period statement. The colorful glass will still allow light to filter through while casting a rich glow and artsy feel.

Inlay wood medallions in the floor. Line a feature ceiling with tongue and groove pine. Build in an oak buffet, desk, butcher-block island, and cedar-lined storage center. Use barn doors for closets. Handmade wooden features inside the home spark a sense of rustic charm, indicative of the craftsman's bungalow design.
References
Writer Bio
Lorna Hordos is a home-flipping business owner and freelance writer. She writes friendly, conversational business, home and lifestyle articles for Bizfluent, azcentral, Daltile, Marazzi, Lowes, Philips Lighting, WordPress.com and numerous other publications.
Photo Credits
Hemera Technologies/AbleStock.com/Getty Images
Hemera Technologies/AbleStock.com/Getty Images
More Articles