Sunroom Designs That are Suitable for the Front of the House
A sunroom is a friendly and attractive addition to a home. Since a sunroom receives varying amounts of sunlight during the day, you want to choose a location that suits the layout of your home. If you plan to add a sunroom to the front of your house, several designs will make it a welcoming area for your family and guests.
Full Glass or Partial Glass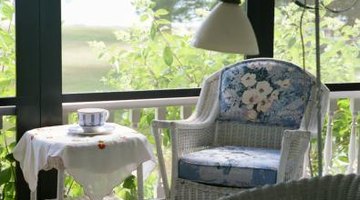 With a sunroom in the front of your house, you must determine how much glass you want your room to contain. If you dislike lots of fingerprints, have pets who dirty glass areas or enjoy privacy, you can construct your sunroom with knee-high or waist-high walls with glass above the walls. This type of construction reduces the amount of sun exposure in the room. Otherwise, you can construct your sunroom with entire walls made from glass windows, glass panels or sliding glass doors. According to Brilliance Sunroom and Patios, the amount of glass you choose depends on your personal preference, current architecture and local building codes.
Attached Addition
An attached addition is another design for a sunroom in the front of your house. If you want to increase the square footage of your home with additional living space, you can add a sunroom to your current structure. An architect can help you determine which existing walls can be used to construct an addition. Depending on your support structure, existing roof and exterior design, an attached sunroom can be a small or an extensive home improvement project. You must determine how large or small you want your addition. the type of lighting you want to use, and heating and cooling demands before you begin construction.
Converted Front Porch
If you already have a front porch, a quick and economical way to create a sunroom is to screen the existing walls of your porch. This process is accomplished by inserting screened panels, fitted to size, in the openings around the perimeter of your porch. The backwall is a solid wall that doesn't require screened panels. The large panels allow outside air to ventilate the sunroom, and the screens keep insects out. Since screened panels are thin, lightweight and see-through, a converted porch receives sun exposure similar to an enclosed sunroom. However, a converted porch is susceptible to adverse weather conditions, paint and fabric fading, and outdoor dust and dirt.
Oversize Entryway
An oversize entryway to your home can be modified to create a sunroom design. If you have a large entryway on the interior side of your front door, you can install skylights and floor-length glass panels for a bright, cheerful living space. You can decorate the area with plants and wicker to give your sunroom an indoor-outdoor appeal. Depending on the amount of space, you can also incorporate comfortable seating into the sunroom design.
References
Resources
Writer Bio
As curriculum developer and educator, Kristine Tucker has enjoyed the plethora of English assignments she's read (and graded!) over the years. Her experiences as vice-president of an energy consulting firm have given her the opportunity to explore business writing and HR. Tucker has a BA and holds Ohio teaching credentials.
Photo Credits
Creatas Images/Creatas/Getty Images
More Articles