Landscaping Ideas for the Front Yard of a Ranch Style House
The exteriors of ranch style houses are notoriously boring, as they are typically long, flat and have low-pitched roofs, which means the roofs are nearly flat with just a slight slant. Landscaping the front yard of a ranch style house allows you to introduce some excitement into your outdoor space and makes your guests feel welcome—as opposed to bored—when they enter your home.
Walkways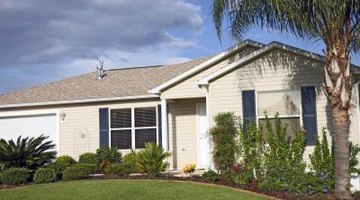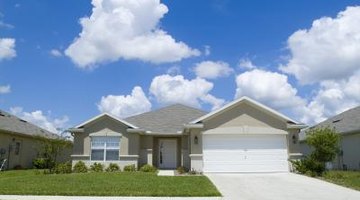 The walkway is an integral part of a ranch style home's front landscape and can break up what might otherwise present as an expansive and boring front yard. Many different material options are available to choose from for your walkway, including cement, cement pavers, natural stone pavers--like bluestone or travertine--and brick. As Better Homes and Gardens Remodeling Center notes, choose a material that complements the colors or textures that appear on the front of your ranch style house. For example, if your house has red shutters, a red brick walkway makes the perfect complement. Also consider using multiple, branching walkways instead of one, which can guide you and your guests to different areas. For example, one branch can lead to the driveway, another to the mailbox, while another curls around the house and leads to the backyard. In addition to creating a lot of visual excitement on their own, branching walkways also provide distinct sections or zones in your front yard, which you can fill with plants and other landscaping elements.
Bench Benefits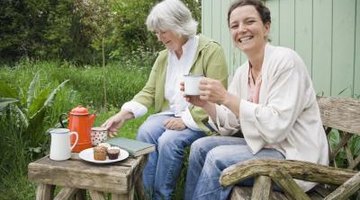 According to Remodeling Center, a wooden bench near the front door of a ranch style home helps make the front yard appear warm and welcoming. In addition, it creates a space where you and your guests can sit and enjoy the outdoors and the events of the neighborhood. It also provides a convenient location for removing and putting on shoes and boots. An alternative to the stoop-side bench is to build a circular bench around a tree in your front yard, which creates a pleasant outdoor sitting space. In terms of materials, teak is an excellent option for outdoor benches as it is hard and weather resistant.
Lampposts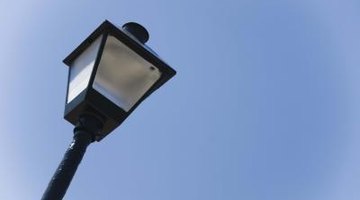 Lampposts are favorite front yard adornments for ranch style homes, especially the types that have an antique, Victorian appearance. However, as the Helpful Gardener notes, while setting up one lamppost can make an appealing focal point, incorporating multiple lampposts can potentially make your space seem crowded, overly bright and garish, like an amusement park.
Flower Beds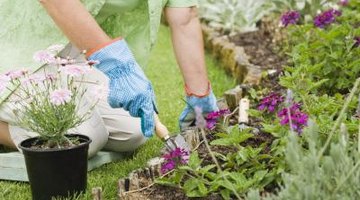 To take attention away from the flat features of your home's front, try building up some large, colorful flower beds that run along its entire length, like a border. According to Landscaping Tips and Design Ideas, select flower beds in front of a ranch style home that are large, protruding at least 4-feet out from the front walls of the house and into the front yard. Smaller-size beds can't provide the same level of visual impact.
References
Resources
Writer Bio
Erik Devaney is a writing professional specializing in health and science topics. His work has been featured on various websites. Devaney attended McGill University, where he earned a Bachelor of Arts in humanistic studies.
Photo Credits
RobertsGalleries/iStock/Getty Images
KentWeakley/iStock/Getty Images
Jupiterimages/BananaStock/Getty Images
Jupiterimages/Stockbyte/Getty Images
Jupiterimages/Polka Dot/Getty Images
More Articles