Ideas for a Semicircular Driveway
While a driveway serves an important function for your home, it can also add a decorative element to the landscape. A semi-circular driveway is an ideal style because you can add it directly in front of your home to create a natural focal point.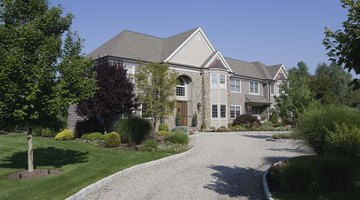 However, be sure to consider both practical and aesthetic features when planning your driveway so you wind up with the ideal design for your home and landscape.
Go Wide
While a semicircular driveway only needs to be wide enough to accommodate a single car, you may be better off making it as wide as your property allows, particularly if the driveway is long. A wider driveway allows for a passageway when multiple cars are parked in the space, so the driver of the rear car doesn't have to back out of the driveway or ask the driver of the front car to move his vehicle. It also creates a grander look for the front of your property, which can help balance out the look of a large, imposing house.
Decorative Island
When you add a semicircular driveway to your property, the half-moon portion of landscape inside the semicircle is a prominent area for the front of your home. To make the most of the space, incorporate a decorative landscaping feature to create an eye-catching look for the front of your home. If you prefer an understated look, plant a colorful bed of flowers and plants. Tall ornamental grasses in a gravel bed also provide a subtle, natural look. If you prefer a rustic look for your landscaping, add a series of large landscaping rocks or boulders to the center portion of the driveway. For an elegant, dramatic look, add a stone fountain, koi pond or other decorative water feature to create an impressive look for your driveway and home.
Light the Driveway
Lighting a driveway is an effective way to eliminate accidents and damage to your lawn after dark. However, with a semicircular driveway, it is even more important because first-time guests may not be expecting a curve when they turn onto your property. Lighting your driveway also highlights its design and provides accent lighting for nearby landscaping features. For a semicircular driveway, it's usually best to line the entire length so guests can see the curves up ahead. You can use path lights that are low to the ground so the light is focused along the driveway. If you want a more dramatic look, add brick or stone piers on either side of your driveway's entries and top them with lantern-style fixtures.
Use Colored Gravel
A semi-circular driveway may be longer than a traditional straight driveway, which means it can be extremely costly to pave with decorative materials like cobblestone or pavers. Gravel is an ideal alternative for a long semicircular driveway because it is an inexpensive material that can add a decorative look to the front of your home. To spruce up your driveway, try mixing several colors of gravel to add dimension and visual interest.
References
Writer Bio
Based in New York City, Jennifer Blair has been covering all things home and garden since 2001. Her writing has appeared on BobVila.com, World Lifestyle, and House Logic. Blair holds a Bachelor of Arts in Writing Seminars from the Johns Hopkins University in Baltimore, Maryland.
Photo Credits
Jupiterimages/Comstock/Getty Images
Jupiterimages/Comstock/Getty Images
More Articles