Ideas to Landscape a Triangle-Shaped Front Yard
Creating an aesthetically appealing front yard is crucial because it is the first thing people see when they pass by your house. Sometimes landscaping the front yard poses a challenge if it is shaped uniquely.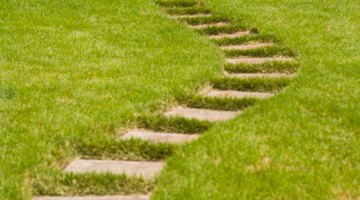 But whether your front yard is in the shape of a triangle or a perfect square, you can implement certain landscaping techniques that will minimize sharp corners and help people focus on the beautiful landscape rather than the yard's shape.
Border
Creating a border of floral bushes or a small wooden fence entwined with floral vines help to soften the angular edges of a triangle-shaped yard. In addition to softening the hard edges, the border helps to promote privacy while adding to the aesthetic appearance of the garden. Mix and match several types of bushes or use one type of bush along the border to create the preferred look. Just keep in mind that when mixing and matching several species of plants it is best to place the larger ones in closer proximity to the house and the smaller ones up front away from the house.
Focal Point
Establishing a focal point in the front yard helps to take the focus away from the lawn's shape. The focal point may be anything from painting the front door a bold shade of red to placing a water fountain in the center of the lawn. Another focal point idea might be a singular large tree in the center of the yard surrounded by a bed of flowers.
Division of Space
Dividing the space in the front yard helps create the illusion of having a square, rectangular or circular-shaped yard. For instance, creating a sitting area at the sharpest point of the yard and landscaping the rest of the yard with flowerbeds or shrubs not only gives functionality to the space, but also transforms a three-sided garden into a four-sided garden. A foundation for the sitting area can be created by laying down bricks or tiles. Decorative tables, chairs or a bench will complete the space.
Walkway
Creating a walkway from the sharpest point of the front yard to the front door of the house directs the eye toward the house and away from the garden's shape. This allows you to focus on landscaping primarily the area in close proximity to the house rather than the entire front yard. This solution is ideal if you are on a budget and the lawn is a large space, because only a small portion needs to be landscaped.
References
Writer Bio
Stephanie Lee began writing in 2000 with concentration on food, travel, fashion and real estate. She has written for Amnesty International and maintains three blogs. Lee holds a Bachelor of Arts in international relations from the University of California, Irvine, and an M.B.A. from Concordia University.
Photo Credits
Comstock Images/Comstock/Getty Images
Comstock Images/Comstock/Getty Images
More Articles