Landscaping Ideas for a Creek Bank
A creek provides a dramatic landscaping opportunity; the running water is a natural focal point, and the gently curving lines of the stream create a soft, natural feeling. Depending on the items you choose to landscape the banks, the creek can be transformed into a lush oasis or a peaceful place to read and relax.
Lush Foliage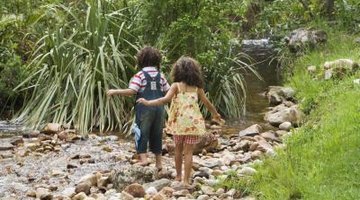 Thick, green foliage can turn a tiny creek into a lush, dramatic setting. If you are working with even a small trickle of water, you have an ideal blank canvas. Look for thick, leafy plants and shrubs that look similar to the plants that grow in your area. With this type of landscaping, the trick is to create a natural, informal look, as though the plants have grown right up to the sides of the creek. Mix plants of different sizes, leaf types and heights, and plant them so that they hang over the banks. Add height and a touch of color by planting tall, simple flowers with long stalks. To reinforce the strength and stability of the bank, you can add stones to keep the plants in place.
Stone Wall
Enhance the natural look of a creek using a stone wall landscaping plan. To start, line the banks of the creek with tiny pebbles to even out the color and put the focus on the water. Along the edges of the creek, lay wide flagstones to form a wall. Pile some stones on top of others and create overlap between large stones for a more natural look. To make it look as though the stones are part of the natural setting, place some in the water and some halfway out of it the stream. If the creek is in your yard, you might plant hedges or low bushes on the outside edge of the gravel to frame the space and add color. For a larger stream or one in a less-restricted area, use large boulders to line the banks instead of low flagstones.
Hanging Trees
If your creek runs through an open or bare area, create the look of a forest stream by planting trees that hang over the water. Buy sapling trees at a nursery and ask the staff for recommendations about trees that will survive well in your soil type. Plant the trees on the banks of the creek so that when they grow, they will form a tunnel. Choose spots that are about two feet from the edge of the creek so that the tree roots have space to grow.
Writer Bio
Elizabeth Smith has been a scientific and engineering writer since 2004. Her work has appeared in numerous journals, newspapers and corporate publications. A frequent traveler, she also has penned articles as a travel writer. Smith has a Bachelor of Arts in communications and writing from Michigan State University.
Photo Credits
Jupiterimages/BananaStock/Getty Images
More Articles