Oriental Styles of Arranging Flowers
Flower arrangements today are a mix of two styles--the European style, which features large quantities of flowers in vibrant colors, and the Oriental or New World style, which reflects simplicity and involves just few flowers. The Oriental style generally uses linear arrangements that incorporate peach and pear blossoms, bamboo, evergreen sprigs, iris and chrysanthemums.
Korean Style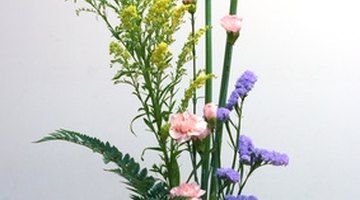 Flowers constitute a large part of Korean culture and tradition, ranging from offerings in Buddhist temples to arrangements that decorate homes. Formal flower arrangements developed with the advancement of the Korean tea company, or darye, meaning day tea rite, where people enjoy their cups of tea in a natural and relaxed environment. The room is decorated with a small bunch of local flowers or sprigs in a vessel or plain whiteware bowls and placed in the center of the table. Local blossoms, ferns and grasses are also commonly used and placed in simple yet elegant designs. Greenware ceramic bowls and vases can be used in modern Korean flower arrangements.
Japanese Style
The Japanese style of arranging flowers is called ikebana. This form of flower arrangement is more like an art form and has been practised in Japan for more than 600 years. Ikebana is an amalgamation of nature and humanity, and aims to create a three-dimensional piece of art that focuses on line, shape and form. The artist expresses his intention through the arrangement's graceful lines, color combinations and natural shapes. In the arrangement are items such as stems, blossoms and branches that portray the heaven, earth and humans. Both container and flowers should exist in harmony and not conflict with one another in color or form. Ikebana features several different styles within itself: shoka or seika (living flowers), rikka (standing flowers), moribana (piled flowers) and nageire (flung flowers).
Chinese Style
According to the Hanlin Chinese Culture Association, Chinese flower arrangement as an art form began with the spread of Buddhism in China during the Northern and Southern Dynasties, with flowers being offered at temple altars. Emperor Li Hou Tsu in the 10th century advanced the art with floral exhibitions at his palace. The Chinese style of flower arranging follows the philosophy of oneness with nature. It uses graceful lines, like calligraphy. Flowers, twigs, stems, branches, ferns and small stones are used to create arrangements that are either cascading, upright or slanting. Emphasis is laid on naturalism; rigid arrangements, knotted flowers, straight columns and symmetrical forms are strongly discouraged.
References
"Oriental Flower Arrangement"; Im Wha Kong; 1997
"Ikebana Step-By-Step"; Reiko Takenaka; 1995
Writer Bio
Tanya Khan is a freelance author and consultant, having written numerous articles for various online and print sources. She has a Master of Business Administration in marketing but her passion lies in writing.
Photo Credits
More Articles