Can You Put a Sunroom on a Townhouse?
A sunroom creates an addition to your home that combines the benefits of both an outdoor entertaining area and an enclosed porch. The sunroom attaches to one side of your home, with its other walls and roof built on. One or more walls and sometimes the roof consist of multiple windows, which let light pour into the room. You can typically put a sunroom on a townhouse, but it depends on a number of factors.
Townhouse Location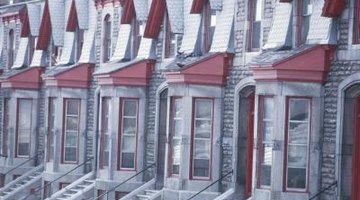 Depending on the location of your townhouse and where it sits in relation to other homes, adding a sunroom might not be an option. A townhouse is part of a shared building, similar to an apartment, though a townhouse is usually larger and may have two or more stories. Your townhouse features a shared wall with one or more neighbors. If your neighbors do not approve of the addition, you cannot add a sunroom. Keep in mind that the addition may block light reaching your neighbors' property and may encroach upon property lines.
Management Approval
Townhouses are different from free-standing homes because the buildings typically are managed collectively. Just as the manager of an apartment complex is responsible for maintenance and repairs, so is a townhouse manager. In addition to your monthly rental or mortgage payments, you'll pay a set amount to the maintenance department -- this might be a monthly, quarterly, biennially or yearly payment. The manager sends a maintenance worker to your home for minor repairs and other problems. In most cases, a manager or management company has final approval over any changes or additions made to the property.
Other Considerations
A porch has a doorway that provides access between the home interior and the sunroom. The sunroom itself might have a door leading to the backyard. The sunroom attaches to the back or side of the home. Depending on your sunroom's style, you might not have enough space for an addition. In some townhomes, the backyard is relatively small and does not provide enough space for the addition. Even if you have the ability to add a sunroom to your home, the building itself might not support its weight. When you add a sunroom, it attaches to the back or side of the townhouse, which puts stress and pressure on the building -- and not all buildings can support this pressure.
Types of Sunrooms
You have the option of hiring someone to create a custom ("stick-built") sunroom on your home or buying a sunroom kit or package to construct a prefabricated one. Sunrooms come in several types, such as the four-season room with insulated glass windows that you use as an additional room year-round. Three-season sunrooms lack insulation, which makes them unsuitable for winter use. Other types of sunrooms include designs with a smaller number of windows, full-glass designs and patio rooms, where the designer builds a sunroom onto an existing porch.
References
Writer Bio
Jennifer Eblin has been a full-time freelance writer since 2006. Her work has appeared on several websites, including Tool Box Tales and Zonder. Eblin received a master's degree in historic preservation from the Savannah College of Art and Design.
Photo Credits
Hemera Technologies/AbleStock.com/Getty Images
More Articles