Is There an Outdoor Paneling for a Porch?
Adding a porch to your home or upgrading an existing porch will add value to your home and provide additional usable space. However, if it's open to the elements, the materials you use on a porch must greater withstand moisture levels and more temperature changes that indoor products. Outdoor paneling for a porch is usually the same as the paneling used indoors, but with a sealant that provides additional protection.
Doors and Windows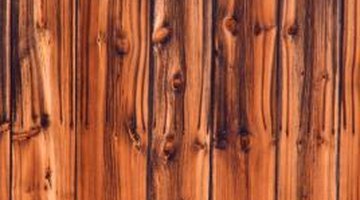 Most panels specifically constructed for outdoor use on porches are door and window inserts. These panels will enclose portions of your porch and provide interchangeable glass and screen inserts to allow a breeze or light into the space. Outdoor porch panels hold up to the elements by using fiberglass construction and exterior paint or finish. They're lighter and less expensive than the exterior doors and windows that insulate your home.
Wood Paneling
The same wood paneling that you'd use to refinish a room in your home is appropriate for your porch. It can serve as an interior lining for half walls or as a decorative element on the exterior of your home. It can also be used on the underside of a porch roof, covering the plywood and giving the porch a more finished look. To prepare wood paneling for outdoor use, select a pre-primed version and apply exterior paint or sealant, or apply your own outdoor primer and finish.
Composite Panels
Composite panels use synthetic material to imitate the look of natural wood. They can provide outdoor porch paneling options that weigh less, hold less moisture and crack less often than wood panels. Composite panel manufacturers offer unprimed panels for indoor use and primed panels for outdoors. If you don't mind giving up the authenticity of natural wood paneling, you can compare the look of faux wood paneling and wood-look vinyl siding, which is specifically designed for outdoor use.
Finishing Tips
Adding a layer of exterior sealant to multipurpose paneling will usually prepare it for many years of outdoor wear. To increase the lifespan of porch paneling, seal each piece of paneling separately before installation, This allows you to seal the edges of each panel and prevent water from causing the panels to swell and split over time. For the longest-lasting, lowest-maintenance option select faux wood paneling and add an exterior finish.