White Cedar Wood Finishing Products
White cedar is widely recognized as a suitable wood for outdoor applications like building exteriors or furniture. Although white cedar can be left alone and generally ages gracefully in climates that do not encourage decay, treating cedar will permit a longer service life. Several types of products can be used to treat white cedar, but some finishes should be avoided.
Wood Sealers/Preservatives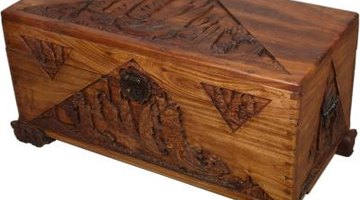 Applying a wood sealer to white cedar is the easiest and most affordable defense against the natural elements. The purpose of a wood sealer or preservative is to reduce the wood's absorption of water by acting as a water repellent. Wood sealers can still allow the wood to age naturally. The more sealer that is absorbed by the wood, the more protection it has; sealer or preservative should be reapplied annually to maximize the cedar's service life.
Oils
The use of oil to finish wood predates sealers and preservatives; historically cedar was soaked in boiled linseed oil. Oil generally provides slightly more protection than a wood sealer while still retaining the wood's natural look. However, oil finishes can also attract dust particles from the air and makes the cedar harder to keep clean. Teak oil is recommended to give the wood a richer appearance. As with sealers, oil should be reapplied annually.
Stains
Exterior stains suitable for white cedar can be either semi-transparent or solid color and can contain ultraviolet inhibitors for maximized protection. A semi-transparent stain should be applied in two coats to the clean surface. Outdoor furniture can be lightly sanded and have a semi-transparent stain reapplied every two years; indoor furniture can go a decade before needing a reapplication.
Paint
Paint provides the greatest protection against weathering and wear but conceals the cedar wood's natural characteristics. The color selection available with paints also makes it possible for furniture to be matched with decor. A high-quality paint (like a 100 percent acrylic formula) can last up to 10 years; at that point it will require scraping, sanding and reapplication.
Finishes to Avoid
Several finishes are not recommended for white cedar that will be used for exterior services. These include lacquers, shellac, varnish, urethane and any other nonflexible, film-forming finishes. These finishes eventually become brittle and will crack and blister.
References
Writer Bio
Angela Ryczkowski is a professional writer who has served as a greenhouse manager and certified wildland firefighter. She holds a Bachelor of Arts in urban and regional studies.
Photo Credits
Hemera Technologies/PhotoObjects.net/Getty Images
More Articles