DIY Porch on a Cape Cod House
A porch addition on your Cape Cod-style house can be a wonderful investment. Whether screened or fully open, it is a great place for enjoying the outside, spending summer days and entertaining friends. A porch adds usable additional square footage to your existing home. Your aim is to make the porch look as if it has been around as long as the home. Using a ready-to-assemble porch kit can be one of the easiest and best ways to add a new porch to your Cape Cod house.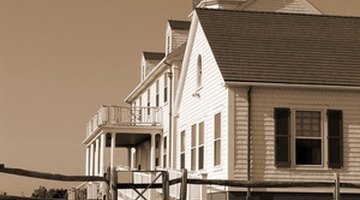 Decide on the intended use of the porch and how many seasons of the year it will be used. Your porch addition needs to complement the architecture of your home. Keep in mind Cape Cod style typically includes dormers and steep-pitched roofs. Determine the size, design and whether electrical outlets will be needed.

Draw a basic porch plan on graph paper as if viewing the porch from directly above. Decide on the length and depth of the desired porch. Ensuring balance and pleasing visual appearance is an important element of your design. Consider the elevation of the porch in relationship to the foundation of the house.

Select the porch kit that best fits your plans. Ready-to-assemble porch kits range in skill level from quite simple to complicated. Some screened-porch kits allow you to turn the porch for your Cape Cod house into a room that can be used three out of the four seasons of the year. Kits come with everything you will need to complete your porch project.

Check with your local building codes department to make sure you have obtained the necessary permits and met the legal requirements for your Cape Cod porch addition. Local government can stop your work and your insurance company may not cover you without the required permits.

Order your kit. You can reduce your costs if you order one of the manufacturer's standard-size kits. Check your measurements to ensure the kit will fit the site correctly.

Address any obstacles that may not work with the standard kit. It can typically be more cost-effective to modify an existing problem rather than request manufacturer modifications.

Understand the type of exterior on your Cape Cod house. The method of attaching the porch to your house will vary depending on the structure of the exterior (wood, siding, etc.).

Set aside plenty of time for your project. Read and familiarize yourself with the instructions to save valuable time in the completion of your porch addition. Look forward to your new Cape Cod house porch providing you with many years of enjoyment.
References
The Family Handyman: Decks, Patios, and Porches; Reader's Digest Books; 2006
Tips
Add comfortable furniture or a cozy hammock to maximize the enjoyment of your Cape Cod porch addition.
Warnings
Knowledge of basic carpentry skills is recommended.
Writer Bio
Karen Curinga has been writing published articles since 2003 and is the author of multiple books. Her articles have appeared in "UTHeath," "Catalyst" and more. Curinga is a freelance writer and certified coach/consultant who has worked with hundreds of clients. She received a Bachelor of Science in psychology.
Photo Credits
house on the beach 2 in sepia image by dav820 from Fotolia.com
More Articles