Porch Design Tools
Designing your own porch can be an exciting task. While it may seem a bit overwhelming, there are plenty of computer design software programs that make it easy for even the most novice designer to create their ideal porch. Several online programs also offer porch design tools for free. If you want to design a small front porch or a large wrap-around, it's easy to find the options available to you.
Landscaping and Deck Designer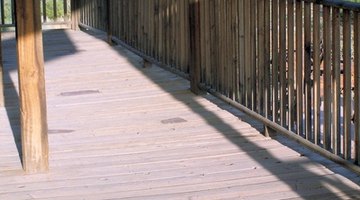 Chief Architect is a professional quality software company offering the best of indoor and outdoor design. This company manufactures a design program called Landscaping and Deck Designer in which you create an ideal outdoor living space in 3D. The Deck Designer tools make it possible to quickly drag and drop features (i.e. posts, beams, planks) for the layout of your porch. With one simple click, you can add a roof, stairs or railing. With this program, it is also possible to specify slopes in the land where you intend to construct your porch. A price calculator is also available to generate expected material costs. Chief Architect's Landscaping and Deck Designer software costs $79.00 and is available at homedesignersoftware.com.
Landscape Deck and Patio Designer
Punch Software offers a porch design software program called Landscape Deck and Patio Designer. This program requires no design experience to operate. Some features include the site planner, deck designer and decorator palette. The site planner adjusts your virtual porch design to set specifications of your lot. Deck designer tools make it easy to drag and drop materials for porch construction. The decorator palette allows you to easily change the color scheme of your porch design to see what color options look best. You can view your design using both 2D and 3D technology and virtually install brand name porch materials. The Landscape Deck and Patio Designer has a 90 day money back guarantee and is available at punchsoftware.com for $49.99.
Deck Designer
The Deck Designer program makes it easy to create an outdoor porch for your home. This program has some of the same features found in the aforementioned software programs, but it is available at bobvila.com for free. Because Deck Designer is powered by Java, your porch design can be viewed online in real time. Deck Designer allows you to choose the basic shape of your porch. From there you can choose the height, wall placement, door placement, window placement and stair placement. You can also choose to add a space, railing and other structural components. After your design is complete, you can save and print your design.
References
Resources
Writer Bio
Residing in Morgantown, W.Va., Heather Preston began writing professionally in 2010. Her work has been published on Web sites such as eHow and Travels.com. She holds a Bachelor of Science in design and advertising from West Virginia University and is currently attending Fairmont State University as a graduate student in the Master of Business Administration program.
Photo Credits
More Articles