Porch Styles for Mobile Homes
Once you move all of your furniture and other items into a mobile home, it might seem a bit cramped. Create a porch on the outside of your mobile home to both create more space outside the home and to add a decorative element to the home.
The porch can serve as a place for your and your friends to hang out, grill foods and even have dinner on an outdoor table.
Patio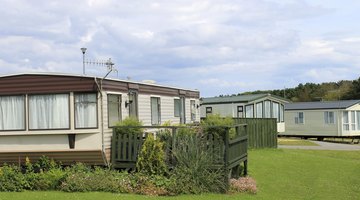 Create a patio on the front of your mobile home. Use wooden or stone stairs to lead up to the door of the mobile home from the patio floor. You can make a simple patio floor by using concrete poured onto the ground. Other patio floor materials include bricks, stones or tiles. Place the materials in a specific or random pattern. When the patio floor is complete, make the edges blend with the rest of your yard by planting shrubs or flower beds around the perimeter.
Deck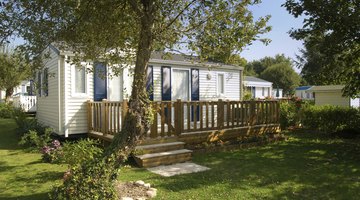 Another option for a mobile home porch is a deck. Decks typically are made of treated wood and either left natural or stained to a shade that you prefer. Build the deck so that it is off the ground and is even with the door to your mobile home. Create stairs leading up to the deck from ground level. You can build a small deck with only room enough for a couple chairs. But if you have room, create a deck that is large enough for a grill, a picnic table, chairs, planters and other deck items.
Screened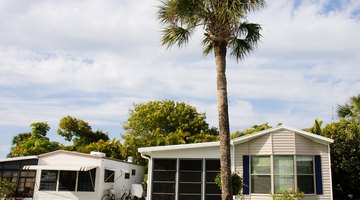 A screened-in porch is another great idea for a mobile home. This porch can serve as an extra room of your home, particularly during the warm months. You can create this porch in a couple different ways. For example, create a patio-style porch floor with steps leading up to the mobile home door. Alternatively, build a raised deck-style porch floor. Whichever kind you choose, you can then build a wood frame around the perimeter of the porch and add screens to keep out bugs, animals and rain, but let in the sun and fresh air. Add a tin roof and your screened-in porch is complete. This porch style is perfect for a mobile home owner who has pets.
Carport
Create a porch on the end of your home that gives you a place to park your card. Build a sidewalk from the stairs leading up to your home around to the side of your mobile home. Then, have a concrete slab poured that is large enough for one or two cars. Have a metal roof built onto the slab, or buy a ready-made carport cover. Although you can use this porch to park your car most of the time, it can also be used as a covered space for parties.
References
Resources
Photo Credits
James Martin/iStock/Getty Images
James Martin/iStock/Getty Images
uptonpark/iStock/Getty Images
saintho/iStock/Getty Images
Christian J. Stewart/iStock/Getty Images
Nancy Nehring/iStock/Getty Images
More Articles