What is an Uncovered Porch?
Porches constructed on the front, back or sides of a home will not necessarily have a roof covering. This doesn't mean that the porch cannot function in many ways for outdoor living and other needs. There are dozens of ways to utilize an uncovered porch for entertaining, relaxing and welcoming guests, even if there is no roof overhead. You may desire to eventually add a roof, depending on the architectural design of the home and your family's needs.
Review the House as a Whole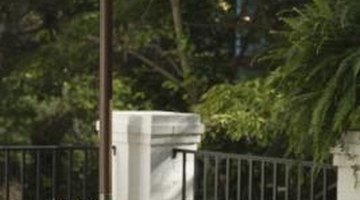 Porch areas must look appropriate with the whole house design. A home with a large concrete porch on the front might have several steps of brick leading up to the porch. Without a roof covering, the emphasis is actually on the steps. This can create a feeling of grandeur for a two-story traditional brick with no covered roof. A small side porch coming from a den or kitchen area may look better without a roof, due to the fact the home has a large covered front porch, for example.
Consider Sun and Rain Issues
An uncovered porch can have railings and other amenities. A porch with railings will function somewhat like a wooden deck, so installing furniture or an umbrella may be appropriate. The homeowner might also like to utilize hanging baskets of flowers attached to the house. By having the porch open without a roof, this allows more sunlight. A small porch can also have a tiny roof covering just at the house entry door, if it's a side porch. The tiny roof may only be 18-24 inches deep, functioning as a way to channel rain away from the door.
Install a Roof for Protection
Look at the pros and cons of having no roof cover. If the concrete is a large space, you may want to add a roof to protect it. Costs of installing a full-size porch roof may help to protect the investment costs of the porch base. Once a concrete porch has large cracks, for example, this weakens the structure. Although most cracks can be repaired, you may choose to help prevent these kinds of issues with a solid roof in place.
Check Out Awnings
Don't overlook using retractable awnings. An uncovered porch offers flexibility for parties or family weddings, if the home is near a beach, for example. By installing a retractable cloth or metal awning, you can use a porch cover when you need to. A remote control for the awning makes the job of covering the space much easier. It's probably wise not to install this kind of awning on the very front of a home, however. A home's side or back areas are usually the best places for an awning cover.
Fix Up a Porch Base
Consider dressing up the floor base of an uncovered porch. If you decide to leave the porch without a roof area, you might still want to improve the floor. Install tile, for example, to give the porch base a polished look. Tiles in terra cotta color or a slate gray will often work well. In some cases, indoor-outdoor carpet might be appropriate. Painting the porch concrete is also an alternative, which will cost much less than tile work.
References
Resources
Writer Bio
Judi Light Hopson is a national columnist for McClatchy Newspapers. She is founder of Hopson Global Education and Training and co-author of the college textbook, Burnout to Balance: EMS Stress. She holds a degree in psychology from East Tennessee State University, and has been a professional writer for 25 years.
Photo Credits
Jupiterimages/Comstock/Getty Images
More Articles