Types of Roofs for a Bay Window
Bay windows provide an intermediate space in which you can enjoy the sights of the outdoors and the comforts of being indoors. A bay window essentially consists of three individual windows fused together to form a three-sided projection outward from the main facade of the building. The interior space gained from the arrangement usually accommodates a cushioned alcove for sitting, known as a window seat. Above the bay window, a number of roofing styles may finish off the look.
Roof Skirt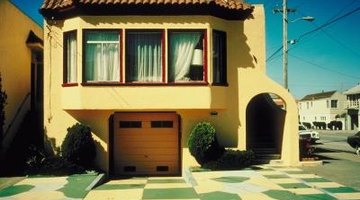 If you install a bay window along a wall where it is not covered by an eave, you´ll need to provide a roof skirt along the upper edge of the bay window. This roof skirt bridges the gap between the home´s exterior wall and the distance outward that the bay window protrudes from the main facade. For a standard bay window, with three planes of windows, one large center panel and two smaller elements at 30- to 45-degree angles, the roof skirt gently follows the rhombus-shaped area, sloping gently downward, away from the house. A box bay window, which juts out from the house at a right angle, may have a somewhat simpler roof skirt.
Widespreading Eaves
A roof design with wide, overhanging eaves may not require a separate roof skirt directly above the bay window. Instead, the top of the window may extend up to the underside of the soffit formed by the overhanging eave. For first-story bay windows, especially on Victorian homes, the bottom edge of a mansard roof style may serve in place of an eave. If you´re looking to add a bay window to your home, first compare its depth to that of your eaves. You may save yourself the labor or cost of installing a roof skirt if you can fit the window beneath the existing eaves.
Glass
If you install bay windows with their own skirt roofs, you might opt to use glass for the small roofs. Encasing the whole window in glass works well for contemporary as well as traditional styles. The look is known as a garden bay or a greenhouse bay window. If you want a bay window that seamlessly transports you outdoors, choose a glass roof skirt. For a sleekly modern interpretation of the greenhouse bay, you might ask an architect to create a box bay window entirely in glass. Take into account factors such as the local snowfall and the area´s susceptibility to windstorms or hurricanes.
References
Writer Bio
Danielle Hill has been writing, editing and translating since 2005. She has contributed to "Globe Pequot" Barcelona travel guide, "Gulfshore Business Magazine," "Connecting Lines: New Poetry from Mexico" and "The Barcelona Review." She has trained in neuro-linguistic programming and holds a Bachelor of Arts in comparative literature and literary translation from Brown University.
Photo Credits
Jupiterimages/Photos.com/Getty Images
More Articles