What Is the Average Size Deck on a Mobile Home?
A deck addition to a home is a major decision. The size of the deck is determined by several factors, including the available budget and yard room, the use of the deck for entertaining and how it fits into the overall nature of the home. Mobile homes are smaller than standard homes, and they are usually squeezed into a smaller lot. This may affect the homeowner's decision on what size deck to build.
Average Deck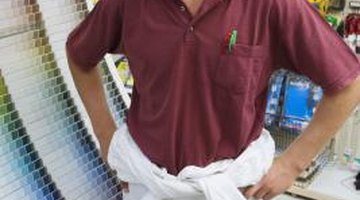 The average home deck ranges between 300 and 400 square feet. A 15-by-20-foot deck would be on the smaller size, while a 20-by-20-foot deck would equal 400 square feet. Both sizes are large enough to have a barbecue grill, a table and several chairs with adequate room to move around and enjoy company. As the size becomes, smaller the deck becomes more crowded.
Long and Shallow
A mobile homeowner on a smaller lot can still have a larger deck by building it along side the length of the home instead of outward. A deck that is 30 foot long and only 12 feet wide will still give 360 square feet for entertaining without extending too deeply into the lot. Even an 8-foot deep deck can work in this circumstance as long a the deck furniture placement is considered carefully.
Smaller Deck
An easy, small deck to build and one that is often done by do-it-yourself homeowners on a tight budget or small lot is only 8-by-8-feet. The standard 2-by-4-foot building stud is 8-feet long and this allows building the deck with minimal wood cutting and limited carpentry skills. The size of a small bedroom, the 64 square foot deck still gives room for several people to sit and enjoy the outdoors, and even to have a grill.
Building Codes
If the mobile home is in a park designed for the homes, then there may be limitations as to the size of the deck. It is important to check with the regulations and with any municipal building codes before planning a deck. A building contractor will usually know the municipal codes but may not know the local park requirements.
References
Resources
Writer Bio
Jack Burton started writing professionally in 1980 with articles in "Word from Jerusalem," "ICEJ Daily News" and Tagalong Garden News. He has managed radio stations, TV studios and newspapers, and was the chief fundraiser for Taltree Arboretum. Burton holds a B.S. in broadcasting from John Brown University. He is a 26-year veteran of the U.S. Navy/Navy Reserves and the Navy Seabees.
Photo Credits
IT Stock Free/Polka Dot/Getty Images
More Articles