Metal Umbrellas vs. Wooden Umbrellas
If you have a patio or an outdoor pool, you might consider installing a large patio umbrella; you may also purchase an umbrella to stay cool at the beach. Regardless of its intended use, the structure of a large umbrella is generally wood, aluminum or cast iron metal. Each material has a different appeal, a different look, and a different amount of durability. When looking to purchase a large umbrella, you may seek the wooden European canopy style for comfort and elegance or the colorful or modern appeal of aluminum.
Advantages of Wooden Umbrellas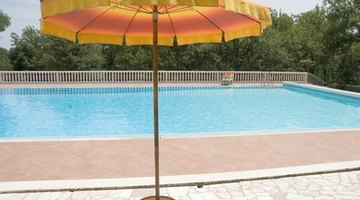 Wooden umbrellas are often thought of as elegant or classic. Wood market umbrellas are one type of European-chic wooden umbrella perfect by a pool or in a garden. Wooden umbrellas are also the preferred umbrella type for tropical settings. Wooden umbrellas are often varnished and waterproof. Because wood does not rust, wooden umbrellas can be more durable in intense sun and heavy rain environments, as long as the wind is not strong. When purchasing an umbrella, look for the Forest Stewardship Council (FSC) emblem. This ensures that the wooden frame in your umbrella was produced responsibly and not from deforestation.
Disadvantages of Wooden Umbrellas
Wooden umbrellas are a lighter weight than aluminum or cast iron umbrellas and sometimes cannot withstand the wind. If your umbrella is situated in a windy environment, you may need to use weights so it does not blow away. Most wooden umbrellas are not painted so your patio colors should look good with the wooden umbrella frame. If your umbrella does not bear the FSC emblem, it may have been produced through deforestation or other environmentally irresponsible means.
Advantages of Metal Umbrellas
Both aluminum and cast iron umbrellas are heavier than wooden umbrellas and have sturdier poles and framework. These umbrellas have an easier time withstanding the wind. Aluminum and cast iron frames are often painted, allowing buyers to match patio furniture colors with the umbrella. Metal umbrellas often give your patio a modern look. Aluminum umbrellas can be easier to tilt and position than wooden umbrellas. Many aluminum umbrellas are portable so they can be folded up and taken down in harsh weather conditions.
Disadvantages of Metal Umbrellas
If your metal umbrella is out in the sun, it could reach hot temperatures. Though most metal umbrellas are made with aluminum, which does not get as hot as other metals, cast iron can heat up. Be careful not to burn bare feet standing on the umbrella stand and watch any children around the metal if it is hot. If your aluminum umbrella is out in the sun for long periods of time, the sun can discolor it. Cast iron can rust and the rust can slowly destroy your umbrella.
Writer Bio
Marianne Luke has been writing professionally since 2005. She has experience writing instruction manuals, research, fiction, nonfiction and poetry, and she also reviews Orlando local music for "Orange Ave Lab" magazine. Luke earned a Bachelor of Arts in technical communications and creative writing from the University of Central Florida in 2010.
Photo Credits
Luxury swimming-pool with orange parasol and comfortable bed image by Ivonne Wierink from Fotolia.com
More Articles