Fiberglass vs. Aluminum Canoes
When shopping for a canoe, several options are available in terms of style, brand and materials. If you've narrowed your choice to deciding between fiberglass and aluminum, how and where you'll use the canoe may factor greatly in your decision. Both materials can be very durable, but for certain considerations such as waterway conditions, the benefits and performance of one material may outweigh the other significantly.
How They're Made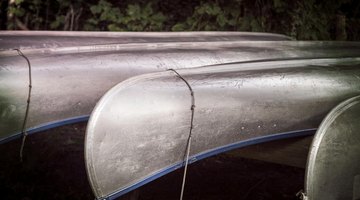 Fiberglass canoes are formed in a mold and bonded with resins to make a sheeted material for the hull of a canoe. Aluminum canoes are constructed using two sheets of aluminum that are bent and riveted together. When compared to fiberglass canoes, most aluminum designs are inferior. Many manufacturers no longer make aluminum canoes.
Design Effects
Fiberglass canoes are lightweight, rigid and durable. They can be shaped specifically to make a smoother-riding craft. They aren't as ideal for long trips as aluminum canoes, which used to be the ideal type of canoe, are. However, aluminum canoes require complex curves to the metal to ensure the smooth and stable hull you get with fiberglass, but these are difficult to make with aluminum. Typically it's uncommon to find an aluminum canoe in a complicated or sophisticated design.
Durability
Aluminum canoes won't corrode, and the metal will not deteriorate if exposed to excessive sunlight. They're the only type of canoe that can be left outdoors all winter long. However, unlike fiberglass, aluminum canoes may dent or scratch when they hit rocks or other hard outcroppings in the water and they will not regain their original shape when this happens.
Benefits
Aluminum canoes are lighter than wood but heavier than fiberglass. The overall benefit of aluminum canoes is durability. They're slow moving but tough and require very little maintenance. Aluminum canoes are typically repaired by welding patches in place, which leaves noticeable scars on the canoe. Often a patch is all that's needed for repair of fiberglass canoes, and when properly applied, it isn't noticeable.
Disadvantages of Aluminium
Aluminum heats up considerably in the sun and is very cold in lower temperatures. Aluminum canoes are heavier than fiberglass canoes and tend to be noisy in the water. The glare from the sun reflecting off the metal may be an issue as well. Aluminum also has a tendency to stick to submerged rocks because it is a soft metal, making it an unsuitable type of canoe for rocky waterways.
Disadvantages of Fiberglass
The quality of fiberglass canoes varies widely from superior to poor. The difference is in how the strips of fiberglass are molded. The buyer must be wary of whether the canoe is made of fiberglass composite or pieces of fiberglass strands. The term "fiberglass composite" is what is used when describing most quality canoes made of fiberglass material that has several layers of woven fabrics with fiberglass and resin that are crafted by hand. Canoes that use fiberglass alone, without the composite material, tend to be brittle. Poor-quality fiberglass canoes use chopped pieces of fiberglass rather than the more expensive fiberglass cloth.
References
Writer Bio
Renee Miller began writing professionally in 2008, contributing to websites and the "Community Press" newspaper. She is co-founder of On Fiction Writing, a website for writers. Miller holds a diploma in social services from Clarke College in Belleville, Ontario.
Photo Credits
ArminStautBerlin/iStock/Getty Images
More Articles