Differences Between Patio Covers Vinyl Vs. Aluminum
There are many different covers buy to cover your patio, made out of different materials that vary in sturdiness and price. Vinyl and aluminum are some of the most popular choices of materials to use as a patio cover, each with its own pluses and minuses.
Durability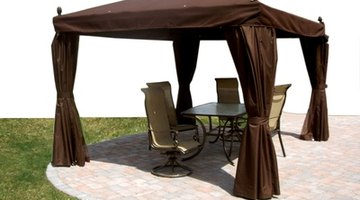 Aluminum and vinyl patio covers are both incredibly durable, as these materials aren't terribly vulnerable to rain, excessive sunlight or cold, unlike wood patio covers. Aluminum patio covers can rust if they are not properly treated to withstand rain or snow, especially on their metal screws or connecting joints where water can collect and sit. Vinyl patio covers don't corrode due to weather and don't need to be treated once they are installed. This makes vinyl patio covers more durable then aluminum patio covers in areas where wet weather is common.
Cost
Vinyl and aluminum patio covers vary in cost, which may affect your choice. Aluminum patio covers are less expensive to install than vinyl, as the materials are cheaper and the installation is generally easier. However, there is often more upkeep needed with aluminum patio covers, while vinyl patio covers can simply be sprayed off with a high pressure washer and usually look as good as new.
Style
What really separates the type of patio cover you decide on when choosing between aluminum and vinyl is the aesthetic quality of the cover and how it matches both your patio and your home. Vinyl patio covers, while durable and able to be produced in many different colors, look stylistically plain and may not match a more eclectic home or patio design, but are perfect for suburban homes with vinyl siding or classic designs. Aluminum patio covers can match homes with large amounts of metal in their architecture or patios that have a more rustic look. When it comes to this type of structure, style is important.
References
Writer Bio
Hailing from Austin, Texas, Daniel Westlake has written under pen names for a myriad of publications all over the nation, ranging from national magazines to local papers. He now lives in Los Angeles, Calif. but regularly travels around the country and abroad, exploring and experiencing everything he can.
Photo Credits
More Articles