Chicken Wire Vs. Plastic Fencing
There are many different types of fencing on the market today. However, when it comes to fencing in poultry, there are really only two types that are most effective: chicken wire and plastic poultry fencing, or plastic fencing. Chicken wire is made of metal and is woven in hexagonal shapes whereas plastic chicken fencing comes in a couple of different styles: hexagonal shaped or woven to reflect square shapes. Both wire and plastic are effective, but both have pros and cons.
Features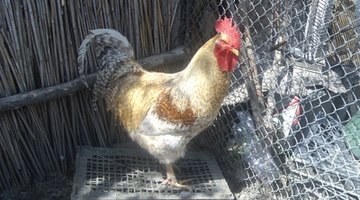 Chicken wire and plastic fencing have a lot in common. First, they are both lightweight types of fencing. Plastic fencing is lighter than chicken wire simply because of polyethylene is lighter than metal. Plastic fencing is more flexible than chicken wire. However, chicken wire is more durable because it's made of metal and is not as easy to bend as plastic fencing.
Installation
Plastic fencing is safer to install than chicken wire. Plastic fencing will not cut or poke a person during installation like chicken wire. Also, plastic fencing does not have rough edges that can injure animals and it takes less space during storage. However, chicken wire is easier to handle and nail to posts than plastic fencing because it's more solid than the plastic variety. Plastic fencing does not require any overlapping during installation because it can be purchased in different heights, although overlapping chicken wire can make the fence sturdier than a plastic fence.
Elements and recycling
Plastic fencing will not corrode or rust after it's been exposed to rain or snow for a long period of time like chicken wire. Chicken wire, though it can rust, will not fade after it's been exposed to sunlight for long periods of time like plastic fencing. Plastic fencing has an advantage because it can be recycled whereas chicken wire cannot. Both chicken wire and plastic fencing are equally effective when it comes to keeping predators out of the fenced area.
References
Photo Credits
More Articles