Gazebo Flooring Ideas
Gazebos can make charming additions to a yard or garden while providing a shaded place to sit and relax. Gazebo designs have a variety of styles from which to choose, including different flooring options.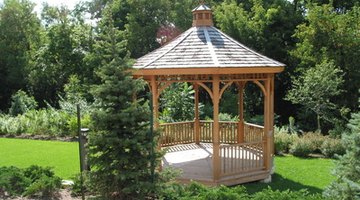 Natural flooring
Gazebos can be built right on grass. Because the grassy area is shaded by the gazebo room, select a grass that grows well in shaded areas, such as St. Augustine, Zoysia and Centipede. A natural floor requires maintenance including cutting, something to consider if you want a lot of furniture in your gazebo-the less furniture, the easier lawn maintenance may be.
Wood Flooring
A popular design with wooden gazebos is a matching wood floor. The floor is made of wooden planks, much like a deck. The planks can be oriented square to the gazebo or along a diagonal. Although a floor laid on the diagonal is more work and requires cutting slanted edges, it is typically considered a prettier design. Wood flooring requires sealants to protect against weathering. A plastic underlayment can help with weed control under the gazebo flooring.
Slab and Stone Flooring
If your gazebo is big enough to use as a dance floor, it may need sturdy flooring. Concrete slabs can be stamped with designs, made to look like flagstones, or stained. They can be smooth or textured with pebbles. Another popular hardscape flooring is to use flagstones for gazebo flooring, similar to how they are used for patios.
References
Photo Credits
gazebo image by Bryan Crisp from Fotolia.com
gazebo image by Bryan Crisp from Fotolia.com
More Articles