How to Recycle Your Fencing Wire
It's an eyesore to you, but that doesn't make it garbage. When you upgrade the metal fence in your yard, the old fencing can get you some quick cash, be recycled and melted into new metal, or pressed into use in someone else's home. All metal materials are 100-percent recyclable, and recycling saves energy and raw materials. Choose the most convenient metal fencing recycling method for you after doing basic research, then get green.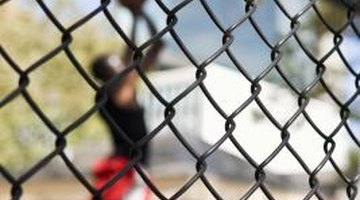 Step 1
Call your town to see whether metal fencing is accepted as part of your municipal recycling. Residents of Montgomery County, Maryland, and North Berkeley County, West Virginia, can recycle their fences locally. Ask about the size and storage of the material, since your community may impose regulations on how much fencing you can recycle at one time.
Step 2
Hold a magnet to your metal fence to test for iron. If the magnet sticks, your fence is ferrous, or contains iron. If the magnet does not, it's non-ferrous. Call scrap metal recyclers and salvage yards in your community to see what price they're offering for metal, either ferrous or non-ferrous, depending on what type of fence you have. Check with several of these businesses to find the best available rate. Then bring the metal fence to a scrap metal recycler or salage yard, and get paid for recycling.
Step 3
Give a metal fence in good condition to a nonprofit that might be able to use it. For example, San Diego's Habitat for Humanity accepts non-rusted metal fencing in good condition at its ReStore. The material is then sold, with proceeds going to fund Habitat projects.
References
Writer Bio
A successful website writer since 1998, Elton Dunn has demonstrated experience with technology, information retrieval, usability and user experience, social media, cloud computing, and small business needs. Dunn holds a degree from UCSF and formerly worked as professional chef. Dunn has ghostwritten thousands of blog posts, newsletter articles, website copy, press releases and product descriptions. He specializes in developing informational articles on topics including food, nutrition, fitness, health and pets.
Photo Credits
Jupiterimages/Comstock/Getty Images
More Articles