How to Recycle a Silver Plate
Most people save their silver plates and silverware for special occasion, since they become tarnished over time. If you're looking to recycle silver plates, you'll have to go through another service besides your local recycling center, since most do not accept precious metals. The easiest way to recycle silver is to donate it, or you can sell the plates to a scrap-metal dealer. As of April 2010, silver is worth about $18 per ounce.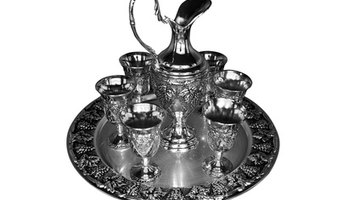 Call the national recycling hotline at 1-800-CLEANUP and ask for information on recycling silver in your area. If you're interested in selling the silver, also ask for the phone numbers of a few scrap-metal dealers.

Give the silver plates to a local nonprofit that has a recycling program. Some schools and the Boy Scouts, for example, take metals for recycling, and sort and sell them. Other charities such as homeless shelters may have similar programs.

Call a few local scrap-metal dealers or pawn shops and ask whether they're taking silver and what the going rate is. To make sure you get the best rate, research the going rates before you call. Take the metal to the dealer with the best prices (you should expect somewhere between $15 to $20 an ounce as of 2010).

Take the silver plate to an antique store and ask if it has any value--you may get a better price than at a scrap dealer and you'll know the plate is being used.
References
Photo Credits
Silver plate image by Dumitrescu Ciprian from Fotolia.com
More Articles