How to Use Tide Detergent to Clean Silver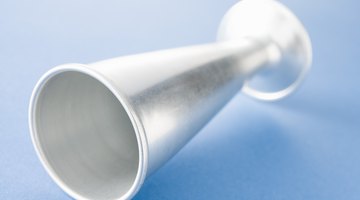 Things You Will Need
Glass pan
Aluminum foil
Soft cloth
Silver has to be cleaned on a regular basis or it can start to look dull. You can clean silver with special polish that is sold at jewelry stores or you can use household products. Tide detergent is a product that can clean silver safely. It's important to be careful when using household products to clean silver as it can easily scratch.
Line the bottom of a glass pan with aluminum foil.

Fill the pan with hot water.

Pour 2 tsp. Tide laundry detergent into the water.

Stir the detergent into the water until it has completely dissolved.

Place the silver into the pan so it is completely submerged. Let the silver soak for two minutes.

Dry the silver with a soft cloth when it is finished soaking.
References
Writer Bio
Megan Richardson began her career as a freelance writer and editor in 2009. She has experience in public relations and event planning, and she worked as a writer's assistant to a published author for more than a year. Her work has also appeared in "The Daily Sentinel." Richardson holds a Bachelor of Arts in communication and journalism from Stephen F. Austin State University
Photo Credits
BananaStock/BananaStock/Getty Images
BananaStock/BananaStock/Getty Images
More Articles