How to Recycle Wrought Iron
Wrought iron falls under the ferrous metal recycling category, which means that you have two main options: curbside recycling and selling your metal to a salvage yard. Ferrous means "containing iron," so you can follow this policy for cast iron and other products as well as wrought iron.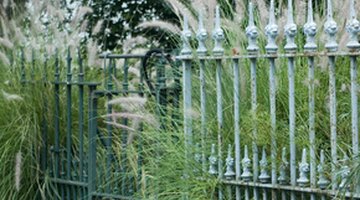 While towns have different ferrous metal recycling policies, you should be able to sell the wrought iron for scrap no matter where you live.
Check your town's ferrous metal recycling policy with a call to the Department of Public Works. Ask if you can recycle wrought iron. If so, do you need to wait for a household collection day or can you recycle it at any time? Do you need to visit a recycling center or can you leave it at the curb?

Call local salvage yards, which buy such pieces, and ask for the current price of iron. If your wrought-iron piece is large, ask if the salvage yard will collect it at your house.

Another option, especially if your wrought-iron piece is attractive, is to locate antique shops, garden centers or other boutiques that might want the piece for re-use or re-sale; your town's telephone directory can provide a good list of such businesses. Let them know what you have and ask if they are interested in purchasing your piece of wrought iron.
Tip
Consider re-using your wrought iron piece as a garden trellis to add an eye-catching focal point to your home. If you want to dispose of your wrought iron quickly, choose a salvage yard or recycle it through your town. Trying to locate a buyer can take more time.
References
Writer Bio
A successful website writer since 1998, Elton Dunn has demonstrated experience with technology, information retrieval, usability and user experience, social media, cloud computing, and small business needs. Dunn holds a degree from UCSF and formerly worked as professional chef. Dunn has ghostwritten thousands of blog posts, newsletter articles, website copy, press releases and product descriptions. He specializes in developing informational articles on topics including food, nutrition, fitness, health and pets.
Photo Credits
and overgrown garden and wrought iron railings image by Stephen Gibson from Fotolia.com
and overgrown garden and wrought iron railings image by Stephen Gibson from Fotolia.com
More Articles