How to Install a Fence Next to a Neighbor's Fence
While it might be tempting to use your neighbor's fence as part of your own, you need to be aware of property lines and local fencing laws. It's often wisest to install your new fence next to the neighboring fence, and the old saying "good fences make good neighbors" surely applies here. It's not enough to simply start installing your fence without taking these factors into consideration. Find the property lines and build your fence to city code, while paying attention to aesthetics and being considerate to your neighbor.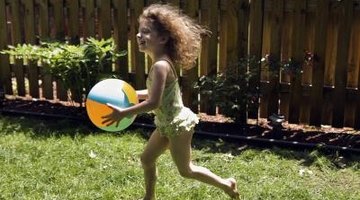 Find your property lines. Call your title company and ask if they have a survey of your property on record. If they can't help, a call to your local city government offices may get you answers.

Borrow or rent a metal detector and try to locate the property markers on your own. These are metal posts buried at the corners of most parcels. They may be several feet underground. Mark the corners with spray paint, stakes or small flags. Run a string from corner to corner to mark your property line.

Call your building department and ask what the fence regulations are. Most municipalities have rules governing the type and height of fences. Failing to comply with these regulations may mean a visit by the building inspector and a request to tear out your fence and reinstall it properly.

Discuss your fence plans with your neighbor. If there's going to be a gap between your two fences, decide how you'll deal with weed control or mowing.

Decide whether the fence posts will face outwards towards your neighbor's property or will face your yard. This is especially important when installing a wood privacy fence, and local ordinances may require you to have the posts facing your yard.

Be courteous and respectful when installing your fence. Avoid disturbing your neighbor's fence and keep dirt and construction debris on your side of the property line.
References
Tips
If you have a homeowners association, check with them for fence regulations as well.
Writer Bio
Stevie Donald has been an online writer since 2004, producing articles for numerous websites and magazines. Her writing chops include three books on dog care and training, one of which won a prestigious national award in 2003. Donald has also been a painting contractor since 1979, painting interiors and exteriors.
Photo Credits
Carey Kirkella/Digital Vision/Getty Images
More Articles