How to Keep a Neighbor's Dogs From Scratching Your Fence
A new fence adds beauty and value to your home, but scratches from the neighbor's dog can destroy your fence in a number of days. Dogs often scratch fences out of aggression or boredom, although determining the cause is difficult when the dog doesn't belong to you. Stopping a scratching dog as soon as possible is necessary to keep your fence, and the relationship with your neighbors, intact.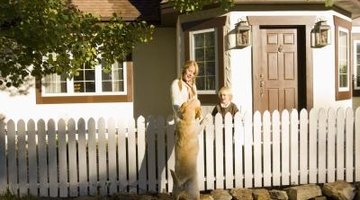 Speak with your neighbors and inform them of the problem. They may be willing to keep the dog in the house or keep it away from the fence. If they're unable to keep the dog from scratching the fence, ask them if it is acceptable for you to come onto their property to work on the fence.

Fill a spray bottle halfway with white vinegar, and add 2 tbsp. cayenne pepper. Top off the bottle with water, and shake to combine ingredients. Spray the pepper solution along the bottom of the fence. Dogs dislike both vinegar and cayenne pepper, and will stay away from the fence.

Add a layer of chicken wire to the fence to deter scratching. Unroll the wire along the bottom of the fence, and staple it to the fence. When the dog tries to scratch the fence, it will feel the rough surface of the wire and stop scratching.

Reinforce the bottom of the fence with plywood. Set plywood sheets against the fence, and secure with nails at each supporting post. The plywood may be unattractive, but it will keep the dog from destroying your fence.
References
Tips
Contact your local building department to make sure the fence is actually on your property. If it belongs to your neighbors, they are responsible for maintaining it.
Warnings
Never use any harmful chemicals to deter scratching. You could be held liable if the dog becomes ill from any chemicals you applied to the fence.
Writer Bio
Louise Lawson has been a published author and editor for more than 10 years. Lawson specializes in pet and food-related articles, utilizing her 15 years as a sous chef and as a dog breeder, handler and trainer to produce pieces for online and print publications.
Photo Credits
Jupiterimages/Comstock/Getty Images
More Articles