How to Decorate Propane Tanks
Propane tanks are often viewed as necessary evils. While necessary for many homes' heat, they can be inconvenient and ugly. Decorating the propane tank can add a touch of whimsy to your landscape, but you should always remember that the propane tank must be functional above all, and you should talk to your propane provider before changing the appearance of your propane tank.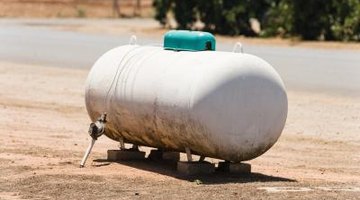 Step 1
Decide on a design for your propane tank. You can paint a propane tank, but by law it is required to be painted a reflective color. Talk to your propane provider before you paint it and they can help you decide if a color is appropriate. Light colors, such as whites, yellows and tans are considered reflective. This requirement is in place to keep the propane tank from getting too hot, since dark colors absorb heat.
Step 2
Non-permanent decorations are best, especially if you are renting the tank. Decorate for holidays by using wire or magnets to hold the decorations on the tank. A Christmas wreath attached to the end or garland-looped around the tank and held up with magnetic hooks can make it look festive.You can also use magnetic hooks to hold bunting for the Fourth of July, metal flower cutouts for spring and summer, and metal-leaf cutouts for fall.
Step 3
If you want to decorate the propane tank permanently and you get the OK from the propane company, you can use your imagination to come up with a unique design for the tank. Some options include: painting a smiley face on the end, decorating the whole thing with green stripes to mimic a watermelon, or painting it pink and adding a pig's face and tail.
References
Tips
If you do decide to paint it, only use paint designed for propane tanks. This specialized paint should prevent or inhibit rusting, which is important for the longevity of your propane tank.
Warnings
Always check with the propane company before you make any modifications to your propane tank. They need to be able to have easy access for refilling the tank and for maintenance.
Writer Bio
A freelancer from South Dakota, Maria Tussing has been writing since 2000. She has been published in "Family Fish & Game," "Wondertime," "Today's Horse" and "Cattle Business Weekly," among other publications. Tussing holds a Bachelor of Science in journalism from Chadron State College.
Photo Credits
Jupiterimages/Photos.com/Getty Images
More Articles