How to Paint Concrete Planters
The concrete planters ringing your terrace, flanking your front door or gracing your garden seem too ordinary and unfinished in the landscaping. So paint them. Prime, paint and seal planters to match the exterior of the house or the trim.
Decorate them with designs or disguise them completely with a faux finish that fools the eye. Sometimes it's easier to paint planters than to move them, and you can always repaint to reflect updated curb appeal.
Prep Your Planter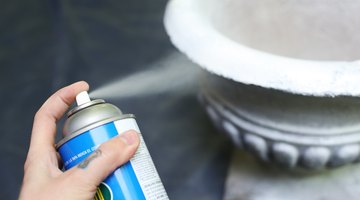 Concrete planters are modern industrial cubes and rectangles, carved decorative bowls and pedestal urns, even repurposed cement blocks leftover from a construction project. They have the virtue of weight; a concrete planter isn't going anywhere, no matter how strong the wind and rain. Unfinished, concrete will absorb moisture if you place it directly on the ground. It also drinks in moisture from the soil surrounding the plant in it. Sealing all but the drainage holes cuts down on absorption; priming, painting and sealing the planter adapts its rugged utilitarian looks to your specific decor. Two coats of latex primer seal a planter, and those may be applied to give the planter a shabby whitewashed finish, with no other paint. In every case, sealing a paint finish delays possible peeling and inevitable paint erosion from weather.
Faux Fabulous
When the industrial charm of a concrete planter doesn't bring enough bling to your patio, fake it. Metallic paint adds luster and looks like the real thing if you get the details right. Choose a planter with a smooth finish and clear molded designs. Apply a faux-finish paint made for concrete and outdoor use. Copper is a good base coat; dab it on the concrete with a sponge applicator for the best coverage. Then follow directions for the faux finish with green and brown paints that mimic mottled verdigris, the uneven greening that forms a film over copper exposed to the elements. A final dilute coat of black enamel mixed with water is brushed over the piece to age it and help seal the design. Other metallic options are antique gold and tarnished silver.
Building Blocks
Concrete blocks make inexpensive and interesting patio planters, and a stack of them painted with geometric shapes is a focal point in your landscaping. Simply stack blocks in a right angle in the corner of the patio, or build a pyramid of blocks in the yard against the fence. Before filling the openings with soil and adding plants, paint the concrete using a stencil or a cardboard cutout, taped in place. A simple triangle of one strong color -- like lime or bright ocean blue -- that slants across half of each block creates a patterned display for cactus or impatiens. Painter's tape marks alternate checkerboard squares to color in complementary hues. A stenciled dandelion puff or iguana shape, repeated on each block but randomly placed, blends the concrete into the garden and landscaping and may be painted to match the blooms growing in the planters.
Stony End
If the concrete planter sticks out in your rustic yard, camouflage it with paint. Copy a drawing or photograph of a stacked stone wall, or copy the rock pile or wall on your own property to give the planter a new identity. Draw the areas to become rocks on the outside of the planter, leaving narrow bands between stones where there would be grout to hold actual stones. Paint only the stones, dabbing on outdoor hobby paint to achieve the variegated shades in a real rock. Leave the "grout" areas unpainted until you finish the stones. Then dab the merest hint of a lighter or darker shade of gray than the concrete in the grout lines so they will be a little uneven in color, like real grout. Seal the stone work if you want to preserve it perfectly. Leave it unsealed for the weather and dirt to wear it into a natural-looking part of the landscape.
References
Resources
Writer Bio
Benna Crawford has been a journalist and New York-based writer since 1997. Her work has appeared in USA Today, the San Francisco Chronicle, The New York Times, and in professional journals and trade publications. Crawford has a degree in theater, is a certified Prana Yoga instructor, and writes about fitness, performing and decorative arts, culture, sports, business and education .
Photo Credits
Sarah Vantassel/Demand Media
Sarah Vantassel/Demand Media
Sarah Vantassel/Demand Media
Sarah Vantassel/Demand Media
Sarah Vantassel/Demand Media
Sarah Vantassel/Demand Media
More Articles