What Kind of Paint Would You Use on Paver Stones?
Paver stones create pathways through your lawn and garden, and are used to make patios for outdoor spaces. Pavers typically come in neutral or natural colors such as dull brick red, stone brown or plain gray. If you want a brighter look or a more decorative style, paint the pavers. The type of paint you should use varies depending on the material used in the stones.
Brick Pavers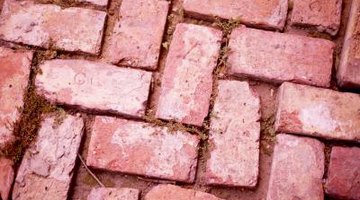 For brick pavers, you need a penetrating sealer or a film-forming product, according to "This Old House." Brick pavers have bumpy surfaces that absorb a large amount of paint. When you use a sealer or film-forming product, the liquid smooths out the surface and fills in the pavers, which means you need less paint later. Apply an outdoor paint that stands up to environmental pressure. Cover the top layer of paint with a clear sealant or a clear coat of paint, which offers more protection for the paint color.
Stone Pavers
For pavers made from stone, concrete or cement, you need a cement or concrete paint. Cement paint contains ingredients that let the paint stick better to stone surfaces. Acrylic cement paints have a stronger finish that holds up well to exposure. Use cement or concrete primer before applying the paint. Apply the paint with a paint roller, which keeps air pockets from forming. After the first layer of paint dries, apply a second coat. Use a clear sealant on top of the paint.
Considerations
Before painting the pavers, carefully clean each one. Sweep away any debris, including leaves or vegetation. Clean the surface of the pavers with a mixture of warm water and liquid dish soap or another mild liquid soap. Rub the solution on the pavers with a damp sponge or soft cloth. Rinse off any soap residue with a garden hose or buckets of fresh water.
Warning
Do not paint pavers with paint designed for indoor use. As rain, snow and other environmental factors touch the pavers, the paint peels and chips away from the pavers. Even if you use sealant, the chips still may form, which requires frequent touch-ups. Avoid painting pavers before cleaning, as you risk trapping dust and other debris between the pavers and layers of paint, which creates a bumpy and unattractive look.
References
Writer Bio
Jennifer Eblin has been a full-time freelance writer since 2006. Her work has appeared on several websites, including Tool Box Tales and Zonder. Eblin received a master's degree in historic preservation from the Savannah College of Art and Design.
Photo Credits
Jupiterimages/Photos.com/Getty Images
More Articles