How to Repaint Driveways
Repainting a driveway that is showing signs of wear and tear gives the surface a fresh new look. Whether old driveway paint is chipped, flaking or faded, you must remove it in order for a new paint job to look its best. Do-it-yourselfers can complete this project over a few days. Be sure to pay as much attention to preparing the surface as you do applying the paint.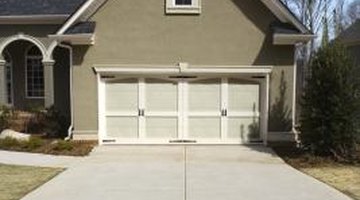 Step 1
Power-wash the driveway with a power washer and scrub brush to remove loose dirt and stains.
Step 2
Stir paint stripper with a wood stirrer and pour it into a painter's tray. Dip a paint roller into the tray, roll it to saturate the roller, then roll the paint stripper over the driveway. Read the product instructions and let it set for the specified time.
Step 3
Screw a long handle on to a paint scraper and scrape the old paint from the surface. Push the chips of paint into piles and use a shovel to dump them into a trash bag.
Step 4
Power-wash the driveway again to remove off any remaining chips of paint and to rinse the paint stripper.
Step 5
Pour concrete sealer or asphalt sealer into a clean paint tray. Saturate the roller in the tray and apply the sealer to the driveway. The sealer will fill in any small cracks so the new coat of paint will go on smooth and even.
Step 6
Paint the edges of the driveway first, using a paint roller. Roll in a couple of feet. Use an exterior paint made for your driveway's surface. For example, urethane-based driveway paint adheres to concrete and offers durability in harsh weather conditions. Epoxy acrylic paints resist fading and peeling, and you can clean it with soap and water.
Step 7
Use a paint sprayer to paint the interior surface of the driveway. Start at one end and work methodically to the other end. Wait a few hours for the first coat to dry before applying the second. Block off the entrance and allow the paint to set for two days before driving on it.
Resources
Warnings
Test the paint stripper on a small spot of the driveway if your driveway is asphalt. Use it only if the stripper does not affect the substrate or the surface beneath the paint.
Wear safety gloves, goggles, a face mask and old clothing to protect yourself from the toxins in paint remover.
Line the sides of the driveway with plastic to guard plants and grass from toxic chemicals.
Writer Bio
Aurora LaJambre is a writer and editor living in Brooklyn, N.Y. For over five years she's covered topics in culture, lifestyle, travel, DIY design and green living for print and online media. Her publication credits include "WOW Women on Writing," "Six States" and Catalogs.com. She graduated from New York University in 2003 with a Bachelor of Fine Arts in creative writing.
Photo Credits
Thinkstock Images/Comstock/Getty Images
More Articles