General Shale Brick Colors
Founded in 1928, the General Shale Brick company is a U.S.--based exterior building materials manufacturer. The company offers more than 250 types of brick in a wide range of colors and textures. Colors range from traditional reds and browns to pastels, earthy hues, grays and deep burgundies and maroons.
Red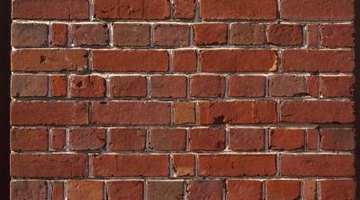 A traditional brick color, General Shale brick colors in the red family include a variety of hues ranging from sun-baked clay to fire engine red. Colors include Annapolis, Autumn Leaf Grain, Ballpark, Biltmore, Brandywine, Callaway Tudor, Cambridge-Denver, Cambridge-Rome, Colonial Grain, Common Wealth, Cooperstown, Coosa Valley Red, Dartmouth, Flash Wire Cut, Full Range Smooth, Full Range Wire Cut, Glenmore Heritage, Hawthorne Tudor, Heritage Hill, Kennedy Heritage, Kings Mill, Old Georgetown, Old Stoneybrook, Olde Indiana Tudor, Phoenix, Portsmouth, Red Range Smooth, Red Range SS, Red Range WC, Red Wire Cut, Red Centennial, Preservation Red, Rome Plantation, Santa Rosa, Seneca Blend, Wellshire, St. Louis, University Hill and Virginia Highlands.
Rose
General Shale brick colors in the rose family include a variety of shades ranging from rich light red to whitewashed rose. Colors include Dark Pink Flashed, Flashed Northern Rose, Monticello, Natchez, Old Savannah, Providence, Rose Range Tudor, Salem Creek Tudor, Sierra Regent, Spalding Tudor and White Rose Tudor.
Burgundy
General Shale brick colors in the burgundy family range from deep cherry wine to rich mahogany. Colors include Berrywood, Buckingham Tudor, Carrington Tudor, Dorchester, Georgetown, Mesa Verde, Millbrook, Old Louisville, Old Mill, Old University Hill, Old Georgian Tudor, Olde Vienna, Raleigh Court, Rembrandt, Victorian, Victorian Vintage, Waterlodge and Waterton.
Earthtones
Earthtone General Shale brick colors include a range of natural element-inspired hues, including Arcadia, Barnwood, Cape Lookout, Fossilbed, Nottingham, Briarwood, Charleston, Charleston Landine, Chesapeake, Highland Range Tudor, Chicago, Cortez, Delaware, Danbury, Georgetown, Heritage Antique, Laurel Bay, Walnut Creek Tudor, Stonewood Tudor, Morning Smoke, Mountain Stone, Rome Lacoste, Scrubbrush and Silas Lucas.
Brown
Brick colors in the General Shale brown family are rich and earthy. Colors include Autumn Ridge, Barnsley Tudor, Chestnut, Coffeebean, Colonial Bardstown, Culpepper, Essex Tudor, Jefferson Wade Tudor, Manor House Tudor, Mesquite, Millstone, Old Chestnut, Old Chicago and Oldham Tudor.
White-Grey
General Shale brick colors in the white-grey family include a variety of colors ranging from deep granite grey to pale misty grey and whitewash stone. Colors include Brimstone, Carbondale, Coliseum, Dover Grey, Greymohl, Hamilton, Marley Tudor, Old Carbondale, Old Marlborough, Saint Cloud, Stone Ridge and Thundercloud.
Pastel
Brick colors in the General Shale pastel family span the range from pale peach to desert sunset. Colors include Augusta, Bellville, Chaldean, Chicagocommon, Edenton, Fort McHenry, Hatteras Heritage, Mandarin, Old Chesapeake, Old Chicagocommon, Pinehurst, Quicksilver, Santa Fe, Shoreham Tudor, Victorian and Williamsburg.
References
Writer Bio
Lisa McQuerrey has been a business writer since 1987. In 1994, she launched a full-service marketing and communications firm. McQuerrey's work has garnered awards from the U.S. Small Business Administration, the International Association of Business Communicators and the Associated Press. She is also the author of several nonfiction trade publications, and, in 2012, had her first young-adult novel published by Glass Page Books.
Photo Credits
Hemera Technologies/AbleStock.com/Getty Images
More Articles