What Color Faucet Do I Use With a White Kitchen Sink?
It used to be that every faucet had a shiny chrome finish. But now many finishes are available, and you can choose the one that best matches your decor. The good news: With a white sink, any finish will work just fine. White is the universal neutral that goes with everything. So choose according to your preference, your pocketbook, and what will go best with the rest of your kitchen.
Chrome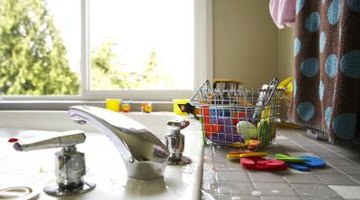 Chrome is the shiny, silver-colored metal finish that used to be the standard for kitchen-sink fixtures. It has much to recommend it. Chrome is flashy and adds sparkle to a room. It is usually the cheapest finish, not because it's lower quality, but because it's considered basic. Chrome shows water spots but is easy to clean.
Brushed Nickel
Brushed nickel has a slight matte, gray-colored finish. It has a soft glow, rather than the hard shine of chrome. This sophisticated finish works well in a contemporary kitchen. It also shows spots but is easy to clean and also tends to be inexpensive.
Bronze and Brass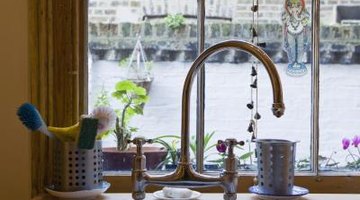 These finishes are on the warm side of the color spectrum, so they look best in rooms that have other warm colors. Bronze is a dark brown that works particularly well with country decor. Bronze finishes may change color over time, so find out if you need to add a sealant to prevent the color from changing. But you may prefer the weathered look.
Brass faucets are unexpected and stand out with their bright golden color. They add both warmth and sparkle and give a room a luxe look.
White
Plastic and enameled metal fixtures come in white and other colors. A white faucet at a white sink has a clean look that is particularly suitable in modern decor. Be aware that plastic fixtures are not as durable as metal.
References
"What Do You Say to a Naked Room?"; Catherine C. Crane
Writer Bio
Emily Goodman is a writer and editor based in Brooklyn, N.Y. She has more than 15 years of experience as a journalist, writer and book editor. Also a trained gardener, Goodman's award-winning children's book, "Plant Secrets," was published by Charlesbridge in 2009.
Photo Credits
Thomas Northcut/Lifesize/Getty Images
Jupiterimages/Goodshoot/Getty Images
More Articles