Which Faucet Fixtures Are Easy to Keep Clean?
The proper faucet fixture can provide an added touch of elegance or theme to a well-designed kitchen or bathroom. Certain faucet finishes and fixtures are easier to clean and maintain than others due to the metal or other material with which the faucet is constructed. Homeowners looking for faucet fixtures should purchase faucets with solid finishes as opposed to plated finishes, which can wear away over time and require replacement.
Chrome and Stainless Steel Faucets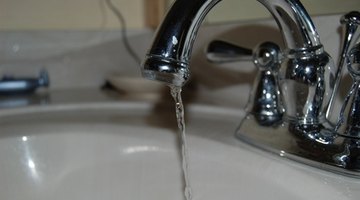 According to the website for the Home Depot, chrome faucets are durable, resist oxidation and are easy to keep clean. Chrome does show water spots very easily, however; so while these types of faucets are easy to clean, you also must clean them more often to keep the shine streak free. Stainless steel faucets also display these benefits and weaknesses. Most are available in a choice of polished, brushed or matte finishes.
Solid Brass
Solid brass faucets have the greatest durability of any faucet building material and require the least amount of care, according to the website for This Old House. This material stands up better to hard water supplies, which can corrode lesser building materials. The problem with solid brass faucet fixtures is the price; most start at $150 in August 2010. This Old House also recommends you physically handle the product when choosing an all-brass faucet fixture. All brass fixtures feel heavier than other fixtures.
Brass and Nickel
Brass and nickel faucets resist scratches, wear and tear from hard water and other forms of damage. These faucets are also easy to keep clean because the metals resist stain and corrosion so well. Brass and nickel faucets are available in high gloss, satin or antique finishes. Brass finishes in particular are said to remain "lifetime" finishes in that homeowners who install them don't have to worry about replacing the finish as it won't wear away over time as with other finish types, like chrome-plated faucets.
References
Writer Bio
Jonathan Lister has been a writer and content marketer since 2003. His latest book publication, "Bullet, a Demos City Novel" is forthcoming from J Taylor Publishing in June 2014. He holds a Bachelor of Arts in English from Shippensburg University and a Master of Fine Arts in writing and poetics from Naropa University.
Photo Credits
More Articles