What Color Sheets Are for a Bed in a Feng Shui Home?
The bedroom is a major energy center in your home, and every detail -- from bed placement to the directions that the doors open -- can affect your sleep, and your life. Feng shui, the ancient Asian art of placement to attract and control positive and negative energy, may be applied to all bedroom design and decor, including the color of your sheets. The hues you use may color everything, from how quickly you fall asleep to attracting and nurturing a significant relationship. Next time you hit a white sale, apply a little feng shui wisdom to your sheet selection.
In the Pink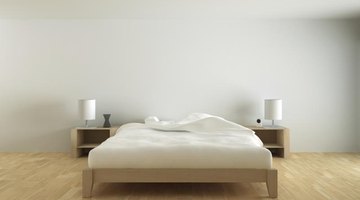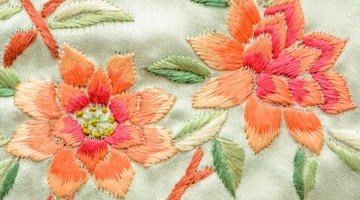 Pink and peach aren't necessarily "girly" colors in the bedroom, and they may be the key to true love when you cover your bed with pale, romantic sheets. Skip the florals for a couple's bedroom and look for solid colors or subtle stripes. Pink, which merges the fiery passion of red with the innocence of white, is feminine and healing. Peach is the color of peach blossoms, lucky flowers in Chinese culture, and it signifies outgoing charm, love and attraction. Balance the soft romance of pastel pink and peach sheets with touches of grounding complements -- moss for pink, navy or midnight blue for peach.
The Greening of the Bedroom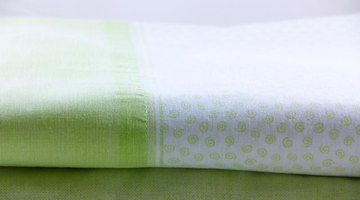 Feng shui advises keeping plants out of the bedroom because their vibrant growth energy may disrupt serenity and drowsiness. But you can introduce green in your bedding to good effect. The color green represents tranquility, renewal, hope and revitalization -- just what you expect from a good night's sleep. Choose soft, pale greens to create a tranquil bed. Mint sheets are pure and fresh with a whisper of spring. The light green of new grass or buds is a deeper shade but still calming, as is pale jade, which symbolizes beauty, luck, everything precious and feminine eroticism. A touch of cinnabar balances the green with just a hint of fire and dynamic energy; a lampshade, pillow sham or wall hanging might introduce grounding red to a bedroom with light green sheets.
Calm Yourself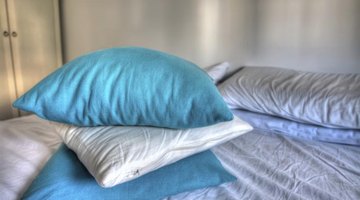 It's no mystery that people use light blue in bedrooms to create a calm, soothing retreat. That intuitive choice is a smart color, for the blue in the sheets means heaven's blessings, tranquility and absence of conflict. But go light: Navy is as bottomless as the depths of the ocean and too strong to lower stress. Ice-blue, bluebell, bleached denim, and a medium shade like light hydrangea or blue poppy will send you off to dreamland and smooth the creases in your brow. Pale purples promote tranquility and lift your thoughts to the spiritual. Deeper purples are too strong, but lilac and pale heather are ethereal and meditative and can be as soothing as blue. Counter the airiness of lilacs and sky-blues with accents of rust or pumpkin for blue, gold or lemon for purple.
Light and Dark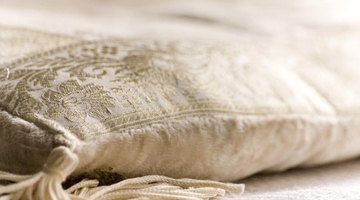 White and off-white sheets invoke innocence, purity, simplicity and the enveloping comfort of a cloud. Sink into that cloud, when you turn off the daily clamor, with the palest of sheets and a feather-light matching duvet. Temper too much white with hints of soft gray for walls or carpet. A neutral Zen palette lends a spacious feeling to even a cramped bedroom. The paler neutrals -- linen, straw, ivory, tan and dove-gray -- will undo the anxious knots of your day. Avoid very dark sheets -- brown is the color of dead leaves in autumn; black is too powerful and dramatic to be restful, and it absorbs energy and colors; navy is businesslike, signifying crisp, clear communications -- save it for your office.
References
Chinese Whispers, Feng Shui; Rosalyn Dexter
Writer Bio
Benna Crawford has been a journalist and New York-based writer since 1997. Her work has appeared in USA Today, the San Francisco Chronicle, The New York Times, and in professional journals and trade publications. Crawford has a degree in theater, is a certified Prana Yoga instructor, and writes about fitness, performing and decorative arts, culture, sports, business and education .
Photo Credits
hkeita/iStock/Getty Images
MRaust/iStock/Getty Images
davitc/iStock/Getty Images
Gabriele Maltinti/iStock/Getty Images
Marc-Antoine Major/iStock/Getty Images
More Articles