How to Make a Double Wide Mobile Home Look Like a House
A double-wide mobile home has more space than a single-wide mobile home and tends to resemble a house more so than a trailer. A double-wide mobile home is a great option for those who want to live in a home but perhaps cannot afford a standard house.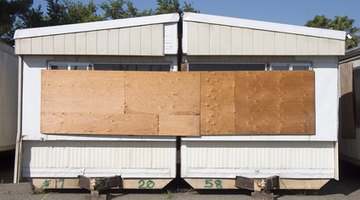 Whether you are renting or buying a double wide, making it look and feel more like a house is often a common desire. There are ways to do so without breaking your budget.
Things You Will Need
Vinyl exterior shutters
Brushed nickel fixtures
Hardwood flooring
Curtains
Curtain rods
Window treatments (optional)
Tip
Curtains can be purchased, but you can also easily make them yourself.
Warning
Do not spend too much money remodeling your home if you plan to sell it at any point as mobile homes depreciate in value.
Add vinyl exterior shutters to the windows of your double wide. Shutters are usually found on windows of older style homes and they are unusual on mobile homes. They not only add style to your double wide, but they will make it look more like a house. Exterior shutters come in a multitude of colors and styles, depending on your preferences.

Change out the fixtures in your double wide mobile home. The fixtures that come with it are likely more basic and less decorative that those which come in a standard house. Replace cabinet hinges, handles and faucets with brushed nickel fixtures. This will make your kitchen look more like one that would be found in a house.

Remodel your double wide and add a sun room. The expense of this endeavor will vary and may have to be done by a professional. As it's very unusual to see a double-wide mobile home that has a sun room, this will certainly make your double wide appear more like a house.

Replace the carpet with hardwood floors. Double-wide mobile homes almost always contain carpet and tile. If you are handy, you can do this yourself. For most people, it's advisable to consult a professional to do this type of work. If you are doing this project yourself, supplies can be found at your local hardware store.

Replace blinds with curtains and decorative window treatments. Blinds are most common in apartments and mobile homes. To make your double wide appear more like a house, add curtains to your windows. Add window treatments to give it a personal touch.
References
Writer Bio
Yvonne Van Damme is a freelance writer based in Seattle. She has been writing for several years with a focus on criminal justice and legal topics. In addition to various websites, she has been published in several academic journals. Van Damme holds a Bachelor of Arts in law, society and justice and sociology from the University of Washington.
Photo Credits
trailer trash #3 image by Aaron Kohr from Fotolia.com
trailer trash #3 image by Aaron Kohr from Fotolia.com
More Articles