Types of House Windows
Choosing the right type of house window is an important whether you are building a new house or remodeling an old one. You need to not only look at the style, but the functionally as well. Fortunately, there are enough types of house widows to meet anyone's needs.
Types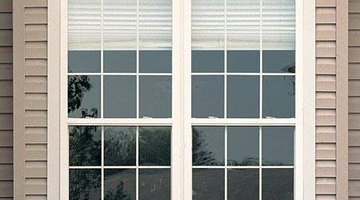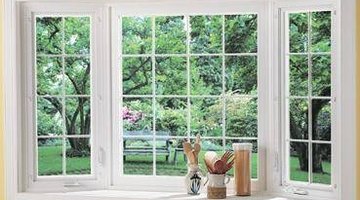 Single-hung windows are what most of us grew up with. The bottom moves up and down and the top is fixed in place. Double-hung windows are similar, but both the top and bottom halves move up and down. Two-lite single sliders are windows that slide horizontally instead of opening vertically. Only one side slides. Regular 2-lite slides from both sides. Trilite windows have three equally sized horizontal panes of glass, but only the bottom one moves up and down. Casement windows are opened by turning a crank that opens both sides of the window to the outside. Awning windows are smaller and hinged at the top so that the bottom sash swings . Hopper basement windows have hinges on the bottom so that the top of the window will swing outward. These are perfect for the basement because opening at the top will prevent any standing water from running in. Also, you can open them just as wide as the overhang from the side of the house during a rain storm and the rain will not come in. Bay and bow windows are very similar. They both have a large middle window that extends out from the frame of the house. There are at least two fixed windows on the side and they can be double hung or casement style. These are the windows that have window seats on the inside.
Features
Vinyl is the material of choice for house windows. Windows today are two panes of glass with a cushion of air in between for insulation. There is also a wide choice of glass types. There is glass which is not see through, tinted glass, tempered glass or laminated glass. One of the newest features in house windows is shades or blinds that are installed in between the two panes of glass. They never have to be cleaned, and can be removed if you want to change them--just push a button and they go up and down.
Effects
Replacing old house windows will make an old house look newer. And it will have an effect on your utility bills as well, since newer windows are much more eco-friendly and will pay for themselves in a very short time.
Considerations
There are many stock sizes of house windows. However, if you live in an older house, you will need to go for the extra expense of a special size. In Victorian and pre-Victorian homes, the windows are much larger. They were made that way to let in more light and warmth. You also need to consider the size of the wall. Bay windows are beautiful, but look out of place on a small wall.
Potential
The potential for new house windows to add to the value of your home is a given. Not only will they add to the value, but they will make your house more marketable. Home buyers look for things that will make their life easier, and new windows are one of the most looked for features