How to Enlarge a Closet
Looking for extra square footage for a typical closet is often not difficult. A few inches taken from an adjoining bedroom or another closet is often the answer. If you utilize 12 to 24 inches from adjacent space, you can often store a significant amount of cubic feet of items. You will need to accomplish the project, however, so the closet looks original to the house. All construction must be completed to look seamless versus choppy. Detailed planning will ensure that enlarging any closet will not subtract from the design of surrounding space.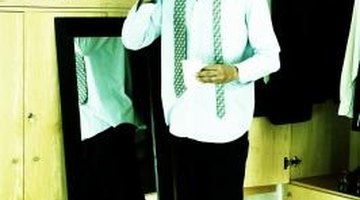 Review options for joining two adjacent closets into one. Create a walk-in closet for a master bedroom, for example. Build a small closet and install an armoire for the bedroom, which will give up some closet space. Knock out the back of your closet wall to incorporate closet floor space from an adjoining bedroom. Make sure any wall you remove is not a load-bearing one. Design a plan on graph paper. Measure all space carefully.

Incorporate room floor space, if the room is large enough. Use an extra 2 feet of space along the front wall of the closet to enlarge it. Construct new walls for the closet from 2-by-4-inch boards. Remove the old closet framework and lay carpet or tile to cover the entire floor interior of the closet. Install drywall both inside and outside the new closet space, along with baseboards.

Construct extra closet space on the home's exterior. Add closet space in a porch section, for example. Use a window looking out on the porch as a doorway to the newly acquired closet space from a bedroom or living area. Build in a section approximately 6-by-8-feet on the porch with framing boards. Insulate the exterior walls and ceiling areas. Finish the closet interior with drywall and wood trim. Make sure the exterior part of the closet includes siding or materials to match the house.

Use some attic space to build a closet taller. Go into the attic area via an access door to remove floor joists after framing a large opening. Raise the ceiling in the closet, so that higher shelves can hold large storage bins or boxes. Store out-of-season clothes or seldom used items in these higher shelves. Be sure to insulate the attic side of the raised ceiling, so the closet does not lose heating or cooling from the house.

Expand an exterior house wall to the end of eaves space. Use this method to expand a closet that borders an exterior wall in a home that is covered in siding versus brick. Enclose an extra 12 to 18 inches of space that will end near the gutters of that exterior wall. Be sure to construct the extra space so it will not leak from the roof areas. Add flashing appropriately, so that the new area is secure from any moisture from rainstorms or severe weather.
References
Resources
Writer Bio
Judi Light Hopson is a national columnist for McClatchy Newspapers. She is founder of Hopson Global Education and Training and co-author of the college textbook, Burnout to Balance: EMS Stress. She holds a degree in psychology from East Tennessee State University, and has been a professional writer for 25 years.
Photo Credits
Goodshoot/Goodshoot/Getty Images
More Articles