How to Paint Ceiling Tiles With Water Damage
Painting ceiling tiles with water damage is similar to painting nearly any other household surface. The paint may cause an acoustical ceiling to lose a small amount of its sound dampening properties, but otherwise the end result will be much more attractive than water stained ceilings.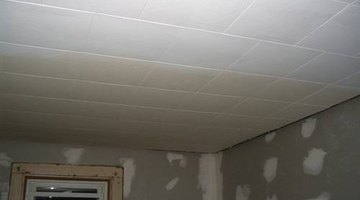 Things You Will Need
Paint roller with a long nap (to reach into the holes in the ceiling tiles)
Stain blocking latex primer (such as Kilz)
Latex paint
Paint brush
Drop cloths
Paint roller pan
Painting a water-damaged ceiling is also significantly cheaper than replacing a ceiling stained by water.
Check to be sure that whatever caused the water damage has been repaired and allow the ceiling to dry completely.

Lay out your drop cloth on the floor under where you will be painting.

Pour some primer into the roller pan and use the paint roller to apply a coat of primer to the ceiling. Allow to dry overnight.

Use the paint roller to apply the latex paint to the ceiling, allow the first coat to dry overnight, then apply a second coat.

Use the paintbrush to go around any edges or spots that you cannot reach with the roller.
References
Writer Bio
Shelley Kishpaugh has written numerous articles for Demand Studios and Helium on a wide variety of topics, and she is currently writing a children's book. Kishpaugh received a B.S. in psychology from the University of Colorado and has been writing professionally since 2007.
Photo Credits
More Articles