Homemade Vinyl Floor Cleaner
Modern vinyl flooring bears little resemblance to Grandma's linoleum that was so good at collecting grime in all its little nooks and crannies. Most of today's vinyl comes pre-treated with stain-resistant finishes that make cleanup fairly easy; a simple swipe with a wet mop usually takes care of it.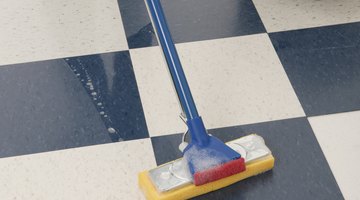 But when you need a little extra cleaning power, steer clear of harsh, abrasive chemicals. Opt, instead, for homemade green cleaners that embrace the planet instead of poisoning it.
The Vinegar Solution
Apple cider vinegar fills a variety of roles around the house, including acting as a safe, eco-friendly cleaning agent. It isn't harmful to children or pets, and the acid that vinegar contains cleans even the grimiest messes without leaving behind a residue, all of which make it a good choice for perking up your vinyl flooring without damaging the shine. Simply fill a bucket with 1 gallon of hot water and add 1 cup of vinegar; damp mop with the mixture. To disinfect while cleaning, use distilled white vinegar instead.
Baking Soda for Stains
When stains happen, as they inevitably will, get them out quickly using a safe and effective solution such as a baking soda paste. Simply add enough water to a few tablespoons of baking soda to make a thick paste. Apply it to the stained linoleum and rub it using a soft cloth. The paste is just abrasive enough to remove stains without damaging shine. If the stain is from ink or marker, wipe it gently with plain Isopropyl alcohol from the bathroom medicine chest.
Detail With Dish Liquid
Ordinary dishwashing liquid added to hot water removes most dirt and grime safely from your vinyl floors. Squirt a few teaspoons of soap into your mop bucket, add hot water, and mop and rinse as usual. This concoction works well for regular floor maintenance to help keep heavy stains and grime from happening. If you don't like the smell of vinegar, try the dishwashing liquid remedy first. It's safe and gentle enough for everyday use.
Heavy-Duty Cleanser Combo
When your vinyl floors are in need of a heavy-duty cleaning, a combination solution may be in order. Combine 1 cup of distilled white vinegar, 1 gallon of hot water, a few drops of dish liquid and a few drops of baby oil. This combination cleans heavy soil while disinfecting and leaving a shine. Use the homemade remedy on floors that are neglected from time to time, or on high-traffic areas such as the kitchen or the main bathroom.
References
Resources
Writer Bio
Anne Goetz shares her parenting and career experience with North American Parent, Hagerstown Magazine, c0ws.com, Lhyme.com and a variety of other online and print publications. A mother of two with a degree in communications and a long history in management, Goetz spends her spare time hiking, camping and blogging. She is the author of the site, An Unedited Life: The Ultimate Blog for Freelance Writers.
Photo Credits
Comstock Images/Stockbyte/Getty Images
Comstock Images/Stockbyte/Getty Images
More Articles