What Will Clean the Black Smoke Off of Fireplace Bricks?
Table of Contents
Brick fireplaces can enhance the appearance and elegance of a room. Dirty fireplaces with soot deposits can make a clean room appear dirty and worn down. Cleaning a brick fireplace can be done by a commercial cleaning service, or by the homeowner using a scrubbing method using standard and specialized home cleaners.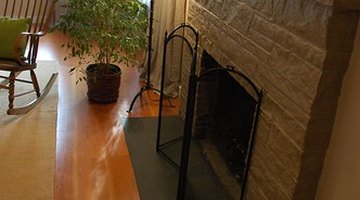 Commercial Cleaning
Commercial cleaning companies are able to clean brick fronts as part of a thorough chimney cleaning. Commercial cleaning usually involves scrubbing the brick with a solution of trisodium phosphate cleaner or, in more severe cases, muriatic acid. Both cleaners can be purchased for use within the home by homeowners wishing to save the cost of professional cleaning, but both are very powerful chemicals that can cause skin damage and toxic fumes.
Commercial cleaning can cost upward of $100 (late 2009 figure) but may be the best option for crumbling or degrading brick and mortar to prevent damage to the brick and masonry.
Home Cleaning: Trisodium Phosphate
Trisodium phosphate can be found in most home improvement stores. Phosphates were a major ingredient in many detergents until the 1970s. Regulations were placed on the substance due to its environmental impact of it leaching into groundwater.
Trisodium phosphate is effective in cleaning soot and creosote from brick but can stain metal, non-masonry grout and ceramic tile. It is also a very caustic chemical that can burn hands and cause severe eye damage if not managed appropriately during cleaning.
Home Cleaning: Muriatic Acid
Muriatic acid is a very potent cleaner for brick and masonry and can be found in home improvement stores. The acid etches the surface of the brick, allowing it to release soot and grease from the surface of the brick. Muriatic acid should be used only as a last resort, in especially dirty and moldy brick, as the risks of mixing the acid and the fumes from the acid can easily overcome an untrained individual.
Home Cleaning: Household Cleaners
Household cleaners can be used in scrubbing fireplaces to remove soot stains. Using a nylon brush to scrub the brick with a foaming household cleaner may be enough to remove lighter stains. Moderate stains can be scrubbed with a solution of 1 part dish soap and 1 part table salt. Nearly any abrasive, grease-cleaning solution will work as long as the brick and masonry is scrubbed and rinsed well.
Considerations
Commercial cleaning companies should be screened for credentials and insurance before allowing work to commence, as damage can result in improper cleaning of antique brick and fireplaces in poor condition. Soot removal can damage surrounding carpets and floors, and care should be exercised before the start of cleaning.
References
Writer Bio
Lauren Thompson lives in Kansas City, Missouri and works as both a writer and freelancer. Her background is in technical and spec writing for the information technology industry, as well as financial services. She also writes opinion and editorial articles for KCParent and Parents Edge, specializing in entertainment, food and political realms.
More Articles