Juniper as a Firewood
Wood from a juniper tree is fragrant when burned and is moderately easy to split, with an average amount of heat per volume when measured by dry weight. As a relatively soft wood that burns quickly and does not create long-lasting coals, juniper works best as kindling.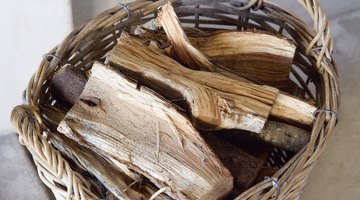 A high number of sparks emitted during burning makes juniper more suited for outdoor fire pits than indoor fireplaces.
The Burn Factor
The forestry department at Utah State University Extension rates firewood from various tree species by determining heat content, burning characteristics and overall quality. The Rocky Mountain Juniper receives an overall quality rating of "fair," with marks off for poor coal quality and excessive number of sparks produced. The ease of splitting and the amount of smoke produced both fall into the "medium" category. The amount of heat per cord, measured per million British thermal units, is stated as 21.8 on the Utah State University chart, as compared to 29.1 for white oak and 15.5 for spruce.
References
Resources
Writer Bio
Wendy K. Leigh is a travel writer and photojournalist from Seattle. She is the Editor of Islands America, a travel website for visiting islands within the United States. She also writes about home design, food and historical architecture. Leigh holds a Bachelor of Arts in English from the University of Washington.
Photo Credits
Jupiterimages/Goodshoot/Getty Images
Jupiterimages/Goodshoot/Getty Images
More Articles