Treatment for a Portable Toilet
Table of Contents
There are several treatments available to use in your portable toilet, just as there are several types of portable toilets. These range from a seat placed over a bucket lined with a black plastic bag to the ones housed in recreational vehicles and campers.
Portable toilets are a convenience when camping or attending large events.
Facts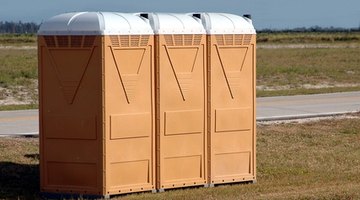 Portable toilets have various uses, including those found at major events, parades, fairs, festivals and other large gatherings. The treatment for portable toilets allows for the control of odor and the breakdown of waste. Dumpsites may restrict the type of treatments used in your portable toilet system. For instance, most condemn the use of ammonia since it interferes with the natural biological processes in septic tanks.
Features
Many manufacturers recommend biological treatments for portable toilets. You can make your own toilet treatment from products found in your local grocery store. However, homemade recipes call for household chemicals--something not recommended. Commercial treatments for portable toilets are biodegradable, environmentally safe, economical, and effective at eliminating odor. Using a biodegradable, organic treatment includes prevention of ground water pollution and increases the ability to drain effectively.
Significance
Many states closely monitor the use of chemicals such as ammonia, bleach, disinfectants, pine cleaners, and others. If traveling, be sure you check with the dump sites about the chemicals allowed prior to dumping. To be safe, it is wiser to use biodegradable, biologically safe treatments. Biological treatments work with the feces, urine, toilet paper, and flushable wipes to create a liquid sludge rather than a solid mass.
Considerations
Every manufactured product must include a list of ingredients. In some cases, you may be able to review the material safety data sheet (MSDS); check with the manufacturer. Look for products made for the safety of the environment, providing full disclosure with no hidden ingredients.
Warning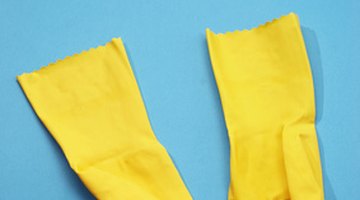 Always practice caution when using portable toilet treatments. Natural ingredients can cause skin rashes, burn your eyes, and irritate your lungs if inhaled. Always wear gloves, keep it away from your eyes, and prevent ingestion or inhalation. If any of these things occur, flush the area and seek medical assistance. Read the directions completely to ensure proper use and disposal of the containers.
References
Resources
Writer Bio
Connie's writing career began over 10 years ago, writing small articles in answer to questions, providing insight and the resources. Her interests include healing, spiritual growth, recovery from addictions, trauma, and life. Connie is a spiritual lifestyle coach specializing in addiction recovery and relapse prevention. She provides insight and direction to offer another concept to life's questions. Connie has a Masters Science degree in psychology and spiritual leadership. She has earned awards and accolades for her service to others.
Photo Credits
Porta Potty image by Jim Mills from Fotolia.com
Porta Potty image by Jim Mills from Fotolia.com
portable toilets image by itsallgood from Fotolia.com
salicorne montante image by Cathy17 from Fotolia.com
rubber gloves image by AGphotographer from Fotolia.com
More Articles