What Do You Use Brass Screws For?
Table of Contents
Choosing the right kind of screw for your project may be a bit confusing but knowing your options can help with the process. Brass screws offer special characteristics that some may find desirable, although the material is softer and the price is higher for this kind of metal.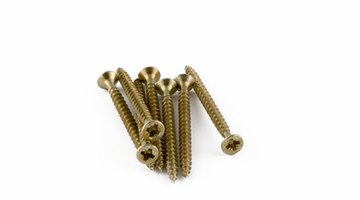 Woodworking
Brass screws are often used for woodworking, usually for aesthetic reasons. Typically smaller screws are used for this purpose, ranging from 3/8 inch to 3 1/2 inches long and 1/16 inch to 1/4 inch in diameter. It is common practice to drill a hole that is almost the same size of the screw prior to inserting the screw to prevent stripping of the soft metal threads.
Exterior
The type of brass screws that are used on the exterior of buildings are usually iron screws with a brass plate on the exterior. This type of screw offers the strength of the iron but also has the added benefit of the rust resistant and anti-corrosive nature of the brass. These are used in areas of the building that one would normally not have access to maintain, clean or replace the regular iron screws. Using pure brass screws for this would not be practical because of the softness of the metal and the higher cost.
Marine
Brass screws have been used on marine equipment for years. The water resistant nature of this metal teams with its anti-corrosive exterior to provide a screw that lasts for a long time. The natural elements (water, sun and wind) would normally corrode regular steel or iron screws, especially the areas that are below the water level. This is why pure brass or brass plated iron screws are a good alternative since they are more resistant to these conditions.
Aesthetics
Besides aesthetics for woodworking, individuals may also choose to use brass screws in other applications. This is because brass offers a soft tan or brown accent. These can be found on many different household items, such as picture frames, doors and mirrors.
Recommendations
Drill the hole for the screw before you attempt to use this type of metal, especially the pure brass screws. Choose a drill bit that is close in size, with the threads of the screw just a little bit wider than the drill bit. If you want to ease the screw in, you can use a lubricating wax, but be careful not to get any of the lubricant on your project as it may stain it. Brass is a soft metal and can easily be warped or misshapen if it handled improperly. Stripping the threads or breaking it is a common occurrence, so be gentle when you are working with this metal.
References
Photo Credits
screw image by Zbigniew Nowak from Fotolia.com
screw image by Zbigniew Nowak from Fotolia.com
More Articles