Different Types of Wood Nails
Nails are the mainstay of wood construction throughout the world. Due to the variety of applications, many different styles of nails have been developed to meet specific needs. There are nail types suited for large framing projects to delicate trim work and everything in between.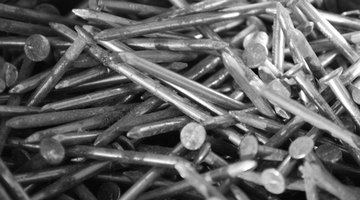 Round-Wire Nails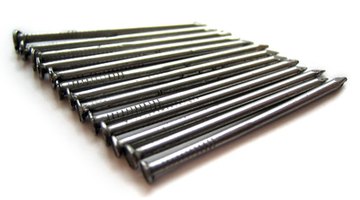 These nails are designed for general work. They have a large, flat head and come in a variety of lengths and thicknesses. This type of nail is so widely used in general construction that it is also known as a "Common" nail. Do not use these nails for decorative or trim work; the large head cannot be hidden and this nail shape is prone to splitting thin wood.
Oval-Wire Nails
As the name implies, these nails have an oval wire shape instead of a round one. They have smaller heads and are well-suited to applications where thin wood must be fastened. This nail type is designed to avoid splitting wood as they are hammered in. Because of the smaller, rounded head, oval-wire nails do not have as much holding power as common nails.
Lost-Head Nails
Used exclusively for trim work and crafts, these nails have a head designed to be sunk below the surface of the wood with a small punch. This allows the nail to be completely hidden in a finished project. These nails are usually the smallest type available and because of their application are usually referred to as "finishing" nails.
References
"Home Improvement 1-2-3"; Benjamin W. Allen; 1995
Writer Bio
Phillip James has worked in the engineering and technology fields since 2002 and began writing in 2004. His work has appeared in his university newspaper, the "Avion," and he has done private technical manual work. He is pursuing a Bachelor of Science in aerospace engineering from Embry-Riddle Aeronautical University and his aviation airframe and powerplant mechanic certification from the Federal Aviation Administration.
Photo Credits
nails image by patsherry from Fotolia.com
nails image by patsherry from Fotolia.com
nail image by Ekaterina Shvigert from Fotolia.com
hammer, nail set and nails image by Allen Stoner from Fotolia.com
More Articles