Cedar Stain Colors
Cedar is a hardwood, also referred to as a coniferous tree, which includes pine and cypress and is used for decks, shingles and siding because of its dense and durable wood.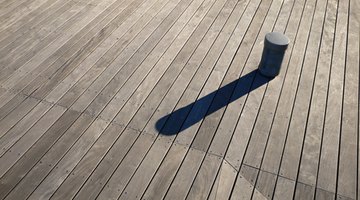 However, the dense nature of the wood makes it especially difficult to penetrate with a stain, requiring manufacturers to design stains specifically for hardwoods like cedar. These hardwood stains are made in a wide range of colors and finishes.
Clear Stain
Clear cedar stains provide ultraviolet (UV) protection and prevent weather from aging the wood. Cedar in its natural state is found in colors that range from yellow to orange to red. Clear cedar stain, also referred to as natural, neutral, translucent or transparent stain, darkens the original color slightly but does not add color to the wood. The application of clear stain will at most make the wood appear the same color it would otherwise be if it were wet from rain or a spray from the garden hose.
Semi-Transparent
A semi-transparent cedar stain provides the UV protection that a clear stain provides but with just a hint of color. The color in a semi-transparent stain allows full viewing of the grain and texture of the wood. This type of stain is found in a range of color groups, including natural, red, honey gold and brown. Colors are not overpowering but are subtle, giving the homeowner the opportunity to use the color to visually support and link the rest of the interior or exterior color palette together. Semi-transparent stains are generally thin, so apply with a brush for best results.
Semi-Solid
Semi-transparent cedar stains allow the texture and grain of cedar to come through but with more than just a hint of color. These stains provide broader color choices than a semi-transparent stain and include color choices in a range of neutrals and warm colors with a few cool colors like green and grey-blue also available. Neutral semi-solid colors include a range of off-white, tan and coffee colors. Warm shades encompass the typical brick, rosewood and redwood colors.
Solid Color
Solid color cedar stains are usually water repellent oil stains that hide the grain but allow the texture of the wood to come through. These stains look and act like paint except that solid color stains can leave overlapping marks (areas where application strokes overlap, leaving behind spots of darker color). Apply the stains per the manufacturer's directions to prevent this problem. Available solid stain colors are typically extensive and move from neutral (off-white, taupe and gray) to outrageous (purple, emerald green.) Solid colors are best applied outdoors to vertical surfaces like fencing or exterior walls instead of horizontal surfaces like decks and outdoor tables tops.
References
Writer Bio
Alex Burke holds a degree in environmental design and a Master of Arts in information management. She's worked as a licensed interior designer, artist, database administrator and nightclub manager. A perpetual student, Burke writes Web content on a variety of topics, including art, interior design, database design, culture, health and business.
Photo Credits
wooden deck background image by d_j_ang0 from Fotolia.com
wooden deck background image by d_j_ang0 from Fotolia.com
More Articles