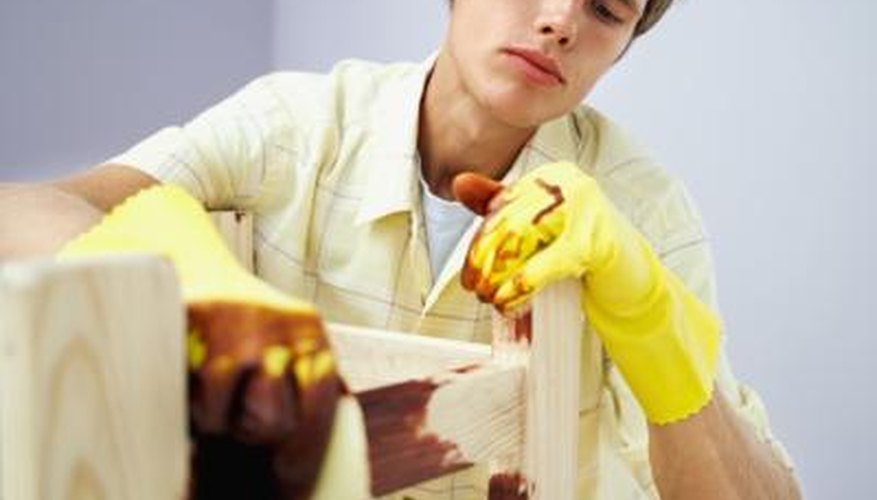 Without careful preparation, the wood absorbs stain too quickly, resulting in a blotchy, uneven finish. You can sand the wood and apply filler to block pores in order to create a smooth, even surface which will take stain well.
Step 1
Wash the wood with soapy water, using a sponge. Allow the wood to completely dry before sanding.
Step 2
Sand the wood with coarse-grit sandpaper to even out the surface.
Step 3
Thin wood filler with paint thinner until it achieves the consistency of paint. Brush the wood filler over the wood with the grain, then across the grain. Allow the filler to dry completely for 10 to 15 minutes before sanding.
Step 4
Sand the wood again, starting with coarse-grit sandpaper and working up to a finer grit until the wood has a shiny surface.
Step 5
Apply wood stain with a rag, moving across the wood grain and then with the wood grain. Allow the stain to sink in for about five minutes, then wipe off the excess with a clean cloth.
Step 6
Mix wood filler with stain until it matches the tone of your stained wood. Fill any dents and cracks in the wood with the putty, and smooth out the surface with a putty knife. Allow the filler and stain to dry thoroughly before finishing.
Step 7
Apply a polyurethane sealer over the wood to add shine and waterproof the surface.
Things You Will Need

Sponge
Sandpaper
Stainable paste wood filler
Paint thinner
Stiff-bristle brush
Pigmented oil stain
Rag
Putty knife
Polyurethane sealer