The Best Types of Stain for a High-Traffic Deck
There are a variety of deck stains and sealants on the market. For a deck that receives a lot of traffic, it's key to select a stain that will sustain a lot of wear and continue to look fresh. A quality stain will add years to the life of the deck, protecting it from both the elements and from foot traffic.
Choose an Oil-Based Stain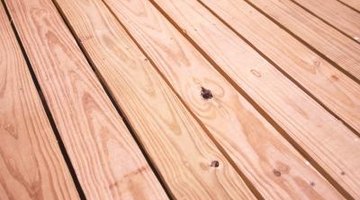 The best choice for staining a high traffic deck is semi-transparent oil-based stain. Oil-based sealants resist the weather, particularly rain, better than water-based sealants do. Solid color stains look good when they go on, but foot traffic will cause wear patterns quickly. Solid color stains are fine for fences, but not much good for decks.
Semi-Transparent Stains Conceal Flaws
Semi-transparent stains work well for both new and older decks. The semi-transparent nature of the stain allows the wood grain to shine through while disguising any imperfections or worn areas in the wood.
Clear Deck Treatment Options Are Also Popular
Other options for sealing a deck include water repellents or wood preservatives. Each of these goes on clear, but the water repellent allows the wood to naturally fade to silver gray while still preserving the integrity of the wood. Wood preservative protects the wood from the sun and weather while helping to retain the original color.
Proper Stain Application is Important
Whichever deck staining option is chosen, it is key to start with a clean, dry surface. Sand any rough or worn areas. Use quality tools such as brushes with tight bristles or a coarse roller. Consider using a sprayer designed for the task. Sprayers usually can be rented for a few hours, making staining the deck quick and efficient. Brush or roller touch-up may still be required.
Reapplication Will Be Needed
Even when a quality oil-based stain is applied correctly, expect to need to reapply a coat every two to three years. Keep deck free of debris and clean with occasional sprays of a garden hose to maximize the life of the deck stain.
References
Writer Bio
Cathy Lanski is a Buffalo, New York based writer who has been writing for more than twenty years on widely ranging topics from parenting to real estate to concerts. Her work has appeared in "Buffalo Rising," "Buffalo News," Buffalo.com and "Oatmeal Studios." Lanski holds a Bachelor of Arts in Communication.
Photo Credits
Jupiterimages/Photos.com/Getty Images
More Articles