How Fast Does Turf Builder Work?
Turf Builder is a line of lawn care products manufactured by the Scotts Miracle-Gro Company for year-round feeding and maintenance of all types of lawn grasses. The Turf Builder line also includes Turf Builder fertilizer plus other chemicals, such as weed killers.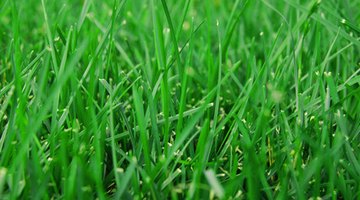 Depending upon the health of your lawn when you apply Turf Builder, you should see results within a week or two, according to Scotts Companies consumer response representative Karen Rausch.
Turf Builder and Water Smart
The original Turf Builder 26-0-3 fertilizer contains sulphur, ammonium sulphate, iron oxide, urea and potassium sulphate in a slow-release formula suitable for all seasons. Turf Builder is promoted as part the company's Water Smart program to encourage less manual watering of lawns. The company notes the product helps grass absorb water and nutrients more effectively so when properly maintained at a length of more than 3 inches with clippings left in place as mulch, lawns stay green with little more than natural rainfall.
Special Turf Builder Formulas
Turf Builder formulas especially for Southern lawns also protect the grass in that region from damage due to excessive heat and drought. Turf Builder with added iron helps the grass green up faster, producing results in under two weeks in healthy lawns.
Liquid Turf Builder
If you need a greener lawn fast, try Scotts Liquid Turf Builder. According to the company's website, Liquid Turf Builder can turn your lawn green in just 24 hours. The product comes in a quart bottle with a built-in spray attachment that screws onto the end of a garden hose. Simply turn on the tap and spray the lawn. Liquid Turf Builder 29-2-3 is suitable for all grasses.
Tips for a Healthy Lawn
Fertilize in early spring for cool-season grasses like bluegrass, fescues, ryegrasses, and bentgrasses and orchardgrass. Fertilize in mid-spring for warm-season grass such as Bermuda, bahia, centipede, zoysia and St. Augustine. Granular fertilizers should be applied with a spreader using the settings recommended on the fertilizer package. Sweep excess fertiilizer from paved surfaces back onto the lawn to avoid stains and groundwater contamination.
References
Resources
Writer Bio
Audrey Lynn has been a journalist and writer since 1974. She edited a weekly home-and-garden tabloid for her hometown newspaper and has regularly contributed to weekly and daily newspapers, as well as "Law and Order" magazine. A Hambidge Fellow, Lynn studied English at Columbus State University.
Photo Credits
grass image by Brett Bouwer from Fotolia.com
grass image by Brett Bouwer from Fotolia.com
More Articles